After the racing had finished – I caught up with Mike and Ian from GO Outdoors to talk about their experiences of the day:
Ian, I thought you did a fantastic job of keeping us all on track with timings and motivated – how was the event for you as team manager?
IM – It was a great event and we such a brilliant groups of riders. What really made the event special for me was the mixed ability across the four teams we had and the support and motivation shared amongst the GO Outdoors teams.
Our fat bike team did amazingly well to come second but what really stood out for me were riders like Beki and Charlie who up until a few weeks ago had never even ridden a mountain bike.
As well as organising the race teams, you were also running things from a company perspective – was the event a success for GO in that respect?
IM – For GO outdoors this was really a step into the unknown. We had never been main sponsor of such a huge event and we'd also never had a 'pop up' shop before. It was a great success firstly in discovering that we can retail out of a tent but also the one-on-one relationships we built up with the riders and supporters at the event. We had a great team of mountain bike enthusiast staff and we opened for 28 hours offering spare parts for any riders who broke their bikes.
Can we expect to see GO supporting more events like this in the future, and… can we expect to see you riding at next year's Mayhem?
IM – I really hope we can do more events like this as it is a great way of really engaging with the public outside of our stores.
I think I'll stick with team managing but you never know, maybe I'll do it solo!
You've clearly got big plans for cycling at GO Outdoors and you were testing some new bikes at the event – can you tell us more about what we can expect to see over the next few months? 
MS – Yeah cycling is a big focus for GO, so many of our customers already cycle either as a main activity or secondary so we just want to give the best products and experience we can. Our own bike brands Calibre and Compass have been gaining momentum with great reviews so there are a few new bikes in the pipeline including the new Fat Bike we raced (a pretty good final test for them) as well as a new Adventure/CX/commuter bike – more coming on that soon.
Mike, how was the race experience for you? – what were your highs & lows? 
MS – The race was great, it was pretty hectic making sure everything from the event side and the store (first time GO has operated a store in a field lol) were running well, then had to get my game face on to race my bike. For me the high was the team's effort on a bike that they had spent very little time on, the low was emptying myself on a lap at 6am o fight back 2nd – I felt sick as a dog.
You put in some pretty quick laps out there, were you 'all in' on every lap, or were you holding some back?
MS – Yeah I'm a pretty competitive guy so I find myself reeling in riders in front of me, especially on the downs, so struggle to hold back. I wasn't far off 100% on most laps but pretty sure I did 100% on that 6am lap.
You've raced at Mountain Mayhem in the past – how did this event compare, and how was the Fat Bike experience? 
MS – This event was great, to echo [Race Organiser] Pat's remarks at the end of the race it did feel like a "race for the people" loads of guys and girls having fun and even though it was a race, everyone had great race etiquette and comradery and the supporters were awesome – plus it was a dry race!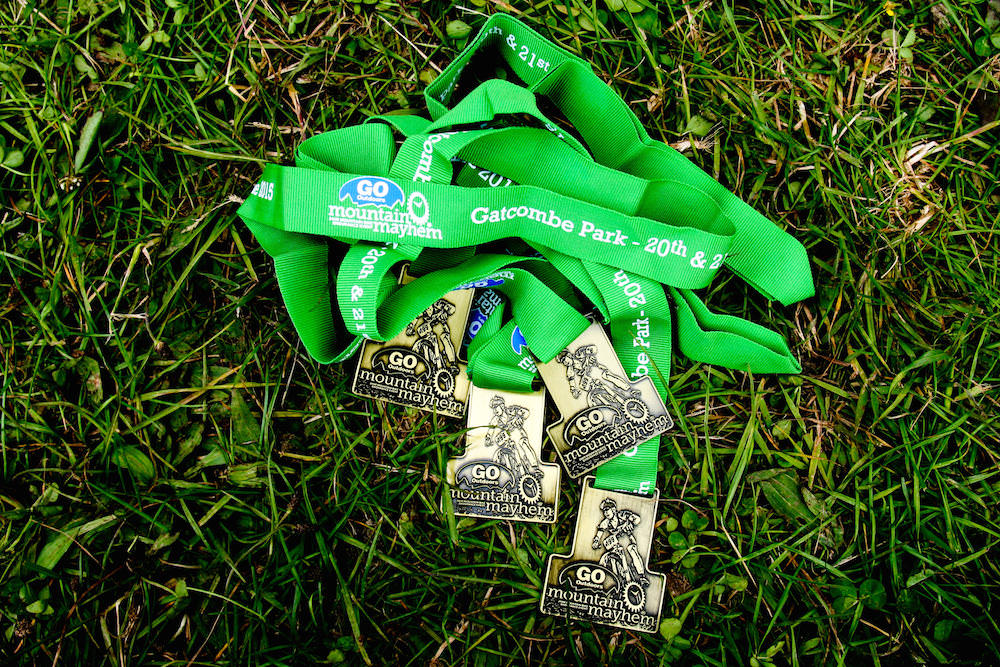 Looking back on the weekend – it was a great event! – really well organised, great course, fantastic atmosphere and the 24 hour format worked really well in a team. The riding was full-on whilst on the bike and tiring over the duration of the 24 hours, but it still felt like there was plenty of time off the bike to chill out with mates. This was my first time at a 24 hour event, but it was a great experience and I'm sure it won't be my last.
[alert type=white ]TOP TIPS
Earplugs – essential if you're a light sleeper
Lots of kit changes – a clean jersey makes getting ready for the 4am lap a lot nicer
Eat real food – you need real food for a 24hr event – some people hit the energy drinks and bars from the start and suffered later on
Pit Board – Ian's pit board really helped to keep us on track and avoid missing any changeovers.[/alert]
How to Enter
Online entry for 2016's Mountain Mayhem event will open on 1st March.