[stag_intro]The Mountain Mayhem is arguably one of the best 24hr mountain bike races in the UK. It attracts hard as nails soloists riding single speeds through to teams of four, spreading the love between them. Jeremy Stain couldn't resist the lure of the challenge and joined a four man team of this year's main sponsor of the event, Go Outdoors. Here's how he got on…[/stag_intro]
[stag_divider style="strong"]
On Monday morning the weekend feels like a bit of a blur… perhaps that's something to do with a complete lack of sleep on Saturday night. After I've woken, aching legs and a garage full of muddy cycling kit remind me where I've been…
I was invited to join the Go Outdoors press team for the Mountain Mayhem – a 24 hour mountain biking event in Gatcombe park, the grounds of Princess Anne's Oxfordshire estate. Now in its umpteenth year, the event was threatened with cancellation this year due to the late notice withdrawal of the main sponsor. Fortunately for the 1,500 participants, the Go Outdoors team, led by Ian Mackintosh and Mike Sanderson (2 guys who's good nature and non PC sense of humour I'll come to know well over the next 24hrs) were able to step in at the last minute, provide the necessary sponsorship funding and, by all accounts save the day.
Their motivation is simple – the GO team are making no bones about their plans in the cycling market and this event should provide an instant indication to serious mountain bikers across the country that they are on the scene.
What is Mountain Mayhem?
The race format is simple.  Do as many laps as you can of the superb 7.5mile lap of woodland and meadow trails within 24 hours. Fortunately it doesn't have to be a solo event (although there are plenty of seriously hardcore solo riders), there are a myriad of categories and sub-categories for the race. Early on Saturday morning I meet a guy in the Solo, Singlespeed, Fatbike category – he's guaranteed a spot on top of the podium as the only rider in this category….but he's still got to ride for 24 hrs!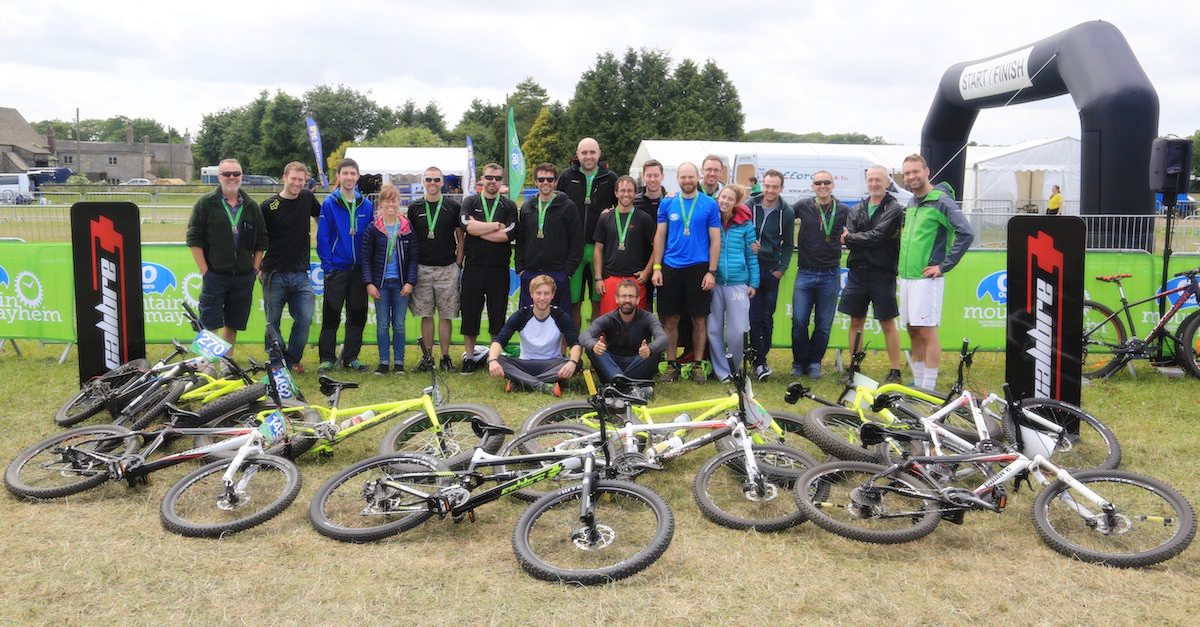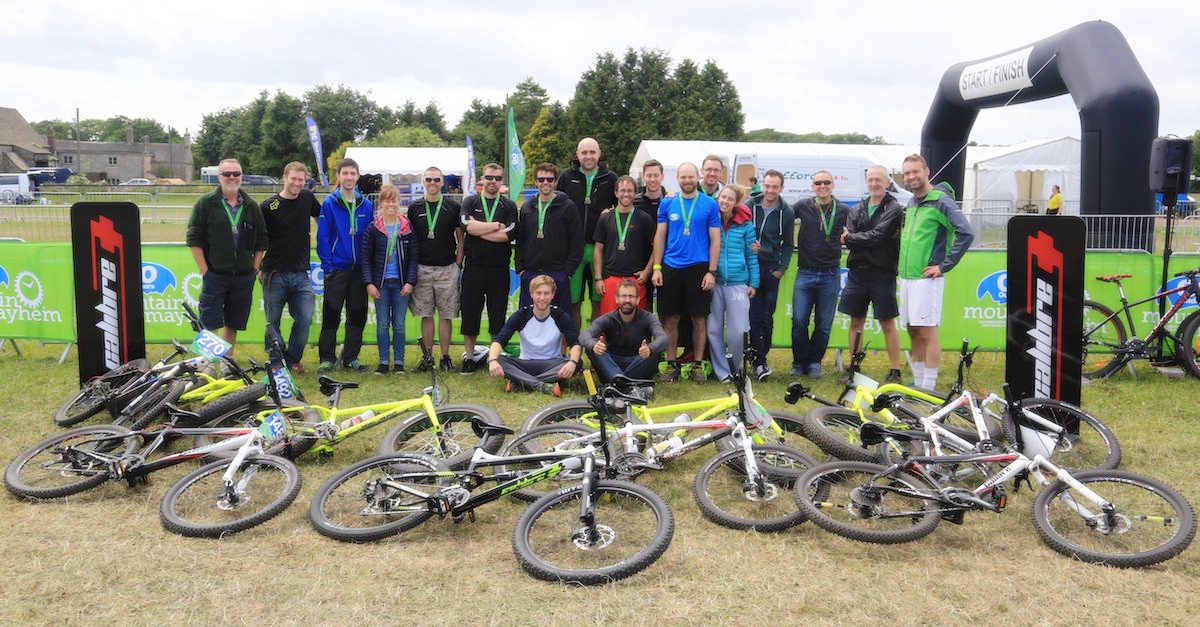 I'm in the most common category – a team of 4 riding normal bikes and I meet my team mates over a beer and BBQ on Friday night. Daniel works at GO HQ in Sheffield.  Responsible for store layout design, he's cool and calm about the race ahead. Simon, a freelance travel and adventure journalist with a passion for cycling, hill walking and all things environmental. And finally Sam, a martial arts expert from Mens' Fitness magazine who, incredibly, has never ridden a mountain bike before. He's been given a crash course in how to ride a mountain bike by the guys during a course pre-ride on Friday afternoon. Understandably, he's nervous about the day ahead!
Talking tactics
Dan draws the short straw and takes the Le Mans start and the first lap. Team tactics and lap strategy seem to be critical at these events as you aim to maximise speed and minimise fatigue over the course of the 24 hrs. Some seasoned 24 hr racers in the GO team recommend a simple strategy – 1 lap each during daylight hours, switching to double laps overnight – aiming to give everyone a reasonable window for sleep overnight. We opt for this tactic combined with some flexibility to see how we feel in the morning as we come into the final 6-8 hours.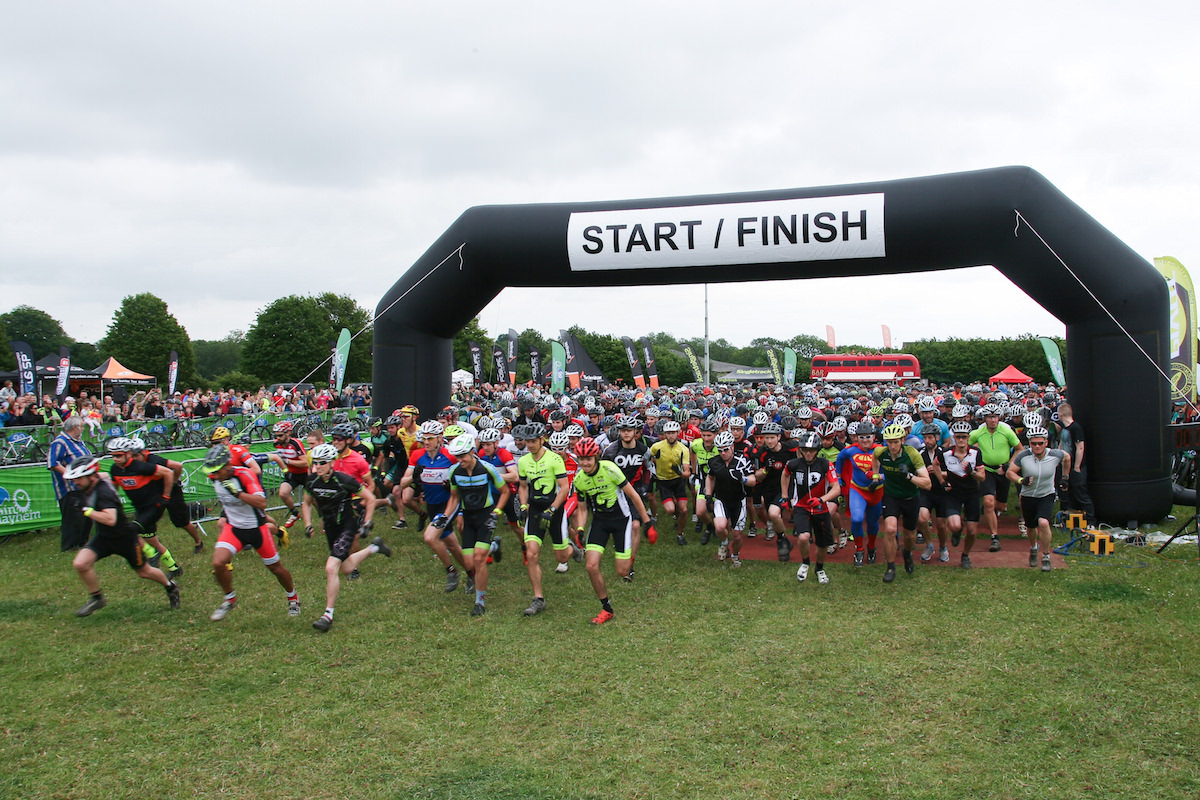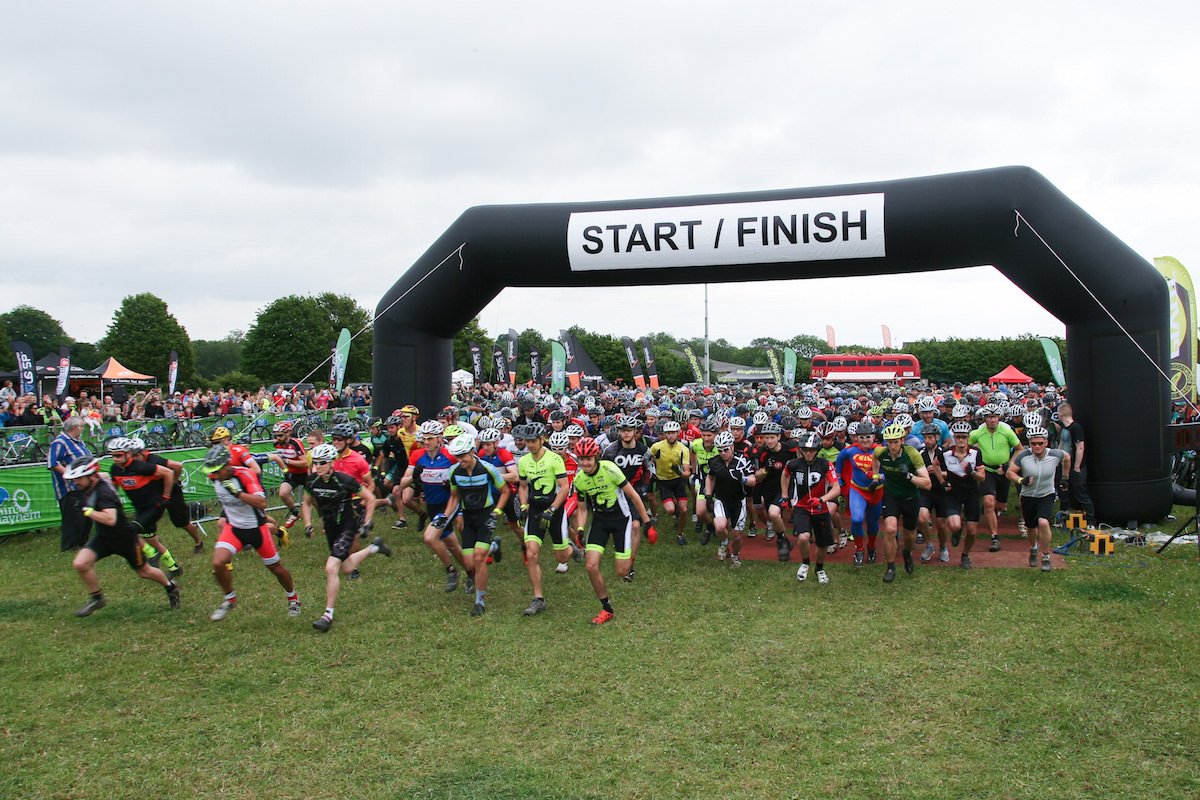 A baptism by fire
I take the third leg in my team and my first lap comes around pretty quickly – picking up from Simon in transition. Arriving at the event late last night and giving breakfast a priority over a practice this morning, meant no time for a practice lap. So I'm a little nervous about heading off at full pace, not knowing quite what the course has in store for us. I've also heard that there are 300 metres of climbing per lap, which for a 7.5 mile loop in Oxfordshire, is quite difficult to believe.
After an open meadow section, we plunge into the woods for several miles of excellent woodland singletrack and double track. Nothing too technical, so I concentrate on trying to remember the trickier corners and bad roots to avoid on subsequent laps.  Later on, it'll be pitch dark, so remembering as much of the course as possible will be important, even with good lights.
I also have the novelty of riding a completely different bike to my regular trusty steed. GO have given me their Calibre Two: Two entry-level hardtail to ride at the event.  It's the first time I've ridden a 26er or hardtail in several years so it takes a while to figure out how it handles. There are plenty of reviews on this bike online so I won't go into detail, but needless to say, the bike rides really well and it's difficult to believe that it's well under £400.
Coming out of the woods, we head back into open meadows and are soon hit with the first of a number of short steep climbs – again, nothing technical, but some of the climbs are about 25% and I'm in the lowest gear. God knows what they'll feel like at 3:00 in the morning…
Back into the woods for more singletrack and more steep, steep climbs before we hit the fast, rooty descents. Fine in the light and dry conditions of mid-afternoon, but there is heavy rain forecast and the chalk rock that makes up most of this area of the country has the traction of a well-oiled banana-skin when its wet…this could start to get interesting later on.
We finish the lap with a fast and flat section parading through the campsite before entering the finish line area and starting to look out for my team mate Sam to hand over the baton.
Downtime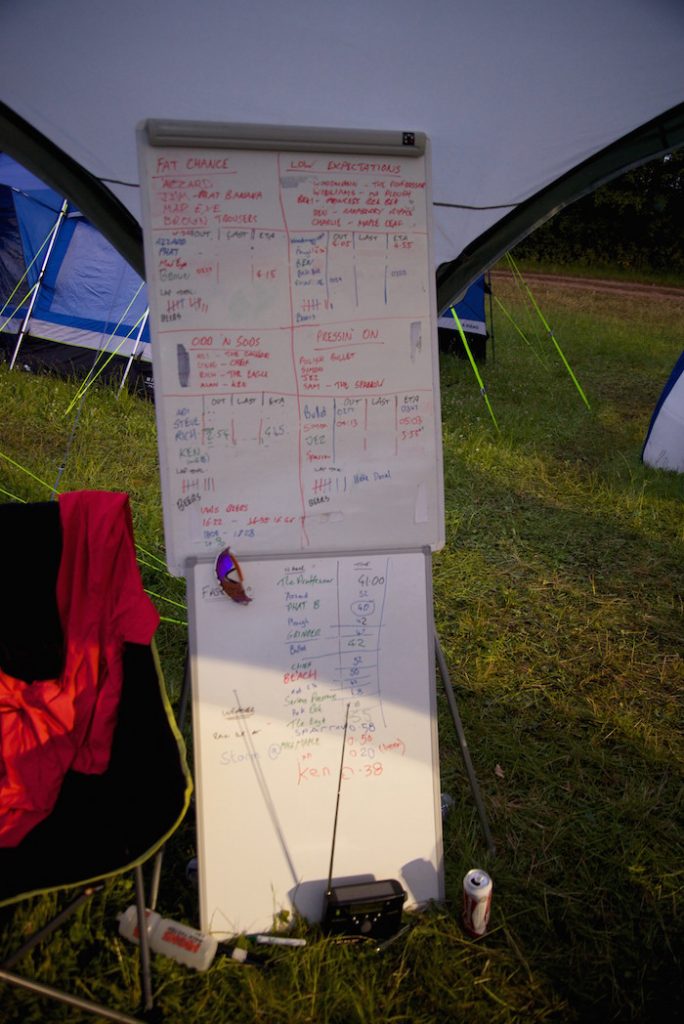 Back at the team tent area, Team Manager Ian Mac has a pit board set up to record the progress of each of the four GO teams racing today. This feels like overkill at the start, but later in the day when we're all getting tired,the pit board is essential to track who's up next and get an idea for when you need to be ready.
"Riding the Mountain Mayhem as a team is really a series of sprints rather than a long, slow, well-paced ride."
We all settle into a rhythm for the rest of the day, one that's quite different to other endurance events.  Riding the Mountain Mayhem as a team is really a series of sprints rather than a long, slow, well-paced ride. We ride at 100%, stop, eat, rest, and get ready for the next sprint.
Things that go bump in the night
Coming into the night session, our team lap tactics dictate that I'm up for the first night lap, which I decide to combine with a switch to double laps. Even though it's approaching the Summer Solstice, it's pitch dark in the woods and the tunnel vision effect of my lights intensify the feeling of speed. Long shadows make the more technical rooty and rocky descents look much harder than they did in the day and it takes a while to readjust to the riding.
Halfway through my first night lap, we're hit with the forecast rain.  Sections of the trail turn slick and losing traction gives me a great excuse to push a couple of the steeper climbs.
It's around 10.30pm by the time I finish the first lap, and I come back through the campsite to start my second lap.  The atmosphere is amazing, the place smells like Earl's Court on Australia day.  There are BBQ's burning everywhere and a group of guys have set up an unofficial feed-station offering shots to riders as they pass.
"Some of the climbs are about 25% and I'm in the lowest gear. God knows what they'll feel like at 3:00 in the morning…"
The second of my double lap session passes without incident…but that's 4 hours of hard riding now, and I'm really starting to feel it – I'm delighted to hand over to Sam just after 11:00 but he doesn't look quite so thrilled and I do feel slightly guilty, as this will be only his second or third hour of mountain biking experience – ever.
Back at team HQ I realise that the "benefit" of riding with the events main sponsors is a premier camping location. Unfortunately, "premier" means 10m from an industrial generator and lighting rig, so sleep isn't too easy. I borrow some squidgy swimming ear plug putty from Simon, who assures me it's unused, and manage to grab a couple of hours before getting up to chat with Ian and the team over tea and late night jazz on the radio.
Time to squeeze a few more laps in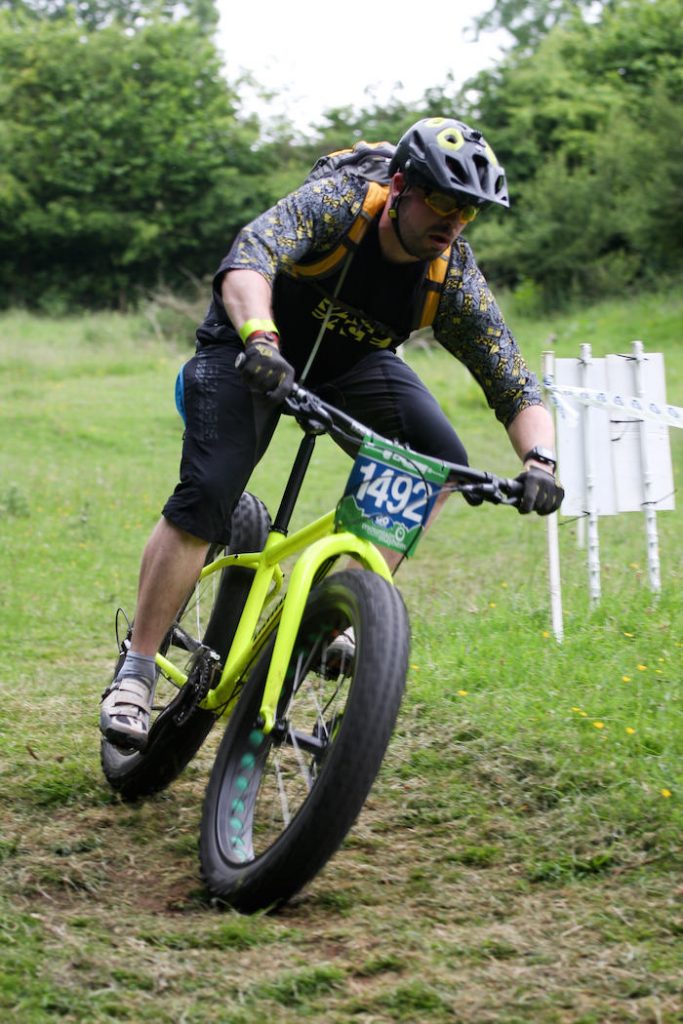 Later in the morning the excitement has picked up for our Fat Bike team – who are in contention for a podium position. Jim is sent out to seal the deal and puts in a blistering sub 40 minute lap. I'm impressed, but rather embarrassed as he's lapping 8 minutes quicker than me…on a fat bike! Still, it gives me a bit of a boost for my last lap, most likely the penultimate for our team. But a quick lap by me might just put Daniel in a position to squeeze in 2 laps before the finish.
I pick up the wristband from Simon at our handover and go out as hard as possible. Halfway through I'm really feeling the burn in my legs of the last 5-6 hours of racing, but the motivation of the team event makes a big difference and stops me from backing off. I hand over to Dan with about 50 minutes left to run. If he's back in less than this time, we can fit in another lap. He's done much quicker laps than this but decides to call it a day with one final lap and I certainly can't fault him for that.  It's been a hard weekend with a lot of high intensity riding and very little sleep. We're all pleased to finish and delighted to watch our mates finish up in 2nd position in the fat bike race.