In the life of every outdoor fitness junkie, there are days when the whole world looks exciting, interesting, fun and the smile rarely leaves your lips.  No challenge is too great!
However, when you have 948 hard pedalled miles behind you, and you've had your 'man suit of courage' fully zipped up for over a week, the last thing you need is for your bike chain to break. Especially whilst a force 3 gale whips you in the face during one of the many lung busting climbs in the depths of Cornwall, and to boot, a mere 34 miles from Land's End on the Deloitte Ride Across Britain (RAB).
But on the other hand, considering what I and my 700 fellow riders have been through over the past 9 days, one broken chain is a small price to pay for the satisfaction of eventually being able to tick off one's list what is arguably the UK's premier long distance cycling event.
From one end to another
Indeed, there can't be many British cyclists who've not at some point contemplated the idea of riding between two the extremities of Great Britain – Land's End and John O'Groats.  Thousands ride it every year and during the summer months, there is a steady stream of pannier laden, weary but determined looking cyclists pedaling furiously into a headwind.
But what makes the RAB different from your standard end-to-end attempt is that it's fully supported.  That means you don't have to worry about complex route planning, lugging heavy kit across the country, figuring out where you're next meal will come from or worrying about where you will sleep each night.  All you need to focus on is riding your bike 100 plus miles a day.  Simple!  Or is it?
'One-way ticket to Thurso, please'
Booking a one way ticket to Thurso, Great Britain's most northern train station, is a sobering reminder of just how far away John O'Groats is and more importantly, what I was letting myself in for.  Concluding that I'd probably only go there once, I figured I might as well do it in style, therefore booking a cabin on the Caledonian Sleeper train from London King's Cross, an experience akin to boarding the Hogwarts Express on platform 9 3/4.
With up to a 1000 tents being erected cheek by jowl, one item that you won't want to forget on your packing list are ear plugs.  At night it's a veritable trumpet concerto of farts interspersed with a percussion of snores.
18 hours later, I was in a taxi driving through John O'Groats, once voted 'Scotland's most dismal town' but  famous for a signpost that you'll have to pay £18 to an entrepreneurial photographer, if you want a photo of yourself next to it.   I was very glad that I wasn't finishing the ride here.
But luckily, I'd come to stay at the first of 9 base camps.  The base camps that organisers Threshold Sports erect are a sight to be seen.  A sea of tents, massage zones, Halfords bike repair areas, a football pitch sized marquee, 'Posh Wash showers', laundry facilities, a medical tent – all of which during the course of a week will take the crew collectively 4,000 hours to put together.
But with up to a 1000 tents being erected cheek by jowl, one item that you won't want to forget on your packing list are ear plugs.  At night it's a veritable trumpet concerto of farts interspersed with a percussion of snores.  If you're lucky enough to sleep through all that, you'll soon be awoken by an unidentified individual you who has maddeningly set their alarm an hour before the official wake up call of 5.30.
Luckily I am a deep sleeper, but you can imagine my surprise when I awoke on the first morning, removing ear plugs and eye mask – at 7.20 – having slept through what some described as the 'First night of the Proms' and missed the 7am start.  By the time I left John O'Groats, the sign had been removed, they'd almost collapsed the start line and the piper who was playing us off, had packed up his pipes!
Snow peaks and lochs
In the evening, we would be briefed on the following day's route, which would invariably be described with words such as 'lumpy' or 'gritty'.  With 51,180ft of climbing, I'd describe the entire country as lumpy.   But as literary legend, Ernest Hemingway, once said, 'It is by riding a bicycle that you learn the contours of a country best, since you have to sweat up the hills and coast down them.'
Collecting midges as I rode through Scotland, I passed in open mouthed wonder at the snow capped peaks, lochs and ancient castles.  I couldn't agree more with Hemingway, although he might have changed his mind if he'd ridden the route from Glasgow to Carlisle – a stretch of badly paved road that the local council have clearly forgotten to maintain since the Romans visited 2000 years ago!
As the days and miles slipped, the creaks and groans from our bodies starting to match the ones in the bottom brackets of our bikes, everyone quickly fell into the routine of the day:  5.30am wake up, breakfast, pack bag, fill up water bottles, find group to ride with, start riding at 7am, reach new base camp, clean and prep bike, drag bag to tent, book massage appointment, stuff jam sandwich down gob, stretch, massage, shower, wash water bottles, visit bum clinic, eat enormous dinner, a cheeky pint of beer, phone the family, sleep, fart, repeat.
By the middle of the week, we were well and truly in a RAB bubble, oblivious to what was happening in the outside world.  That somehow it was OK for hairy men to strut around in nothing but a pair of bib shorts.  That two sandwiches, a packet of crisps, a banana, 3 chocolates and a packet of jelly babies was an acceptable amount to eat at pitstops, despite having only ridden 40 miles. That  it's normal to shout out every pot holes, drain cover and oncoming car like someone with Tourette's syndrome.
But with most people averaging 8-9 hours plus in the saddle each day, there is surprisingly little time to do anything but admin.   'You find your time is very quickly taken up with stretching, massage, nutrition' said 28 year old Patrick Rourke from South Africa.  'I can imagine this is the life of an athlete.'
Which is why I started to have a profound respect for my fellow riders.  They weren't elite athletes.  Nor adrenaline junkies looking for their next fix.  Many of them weren't even cyclists – or at least not before they signed up for the event.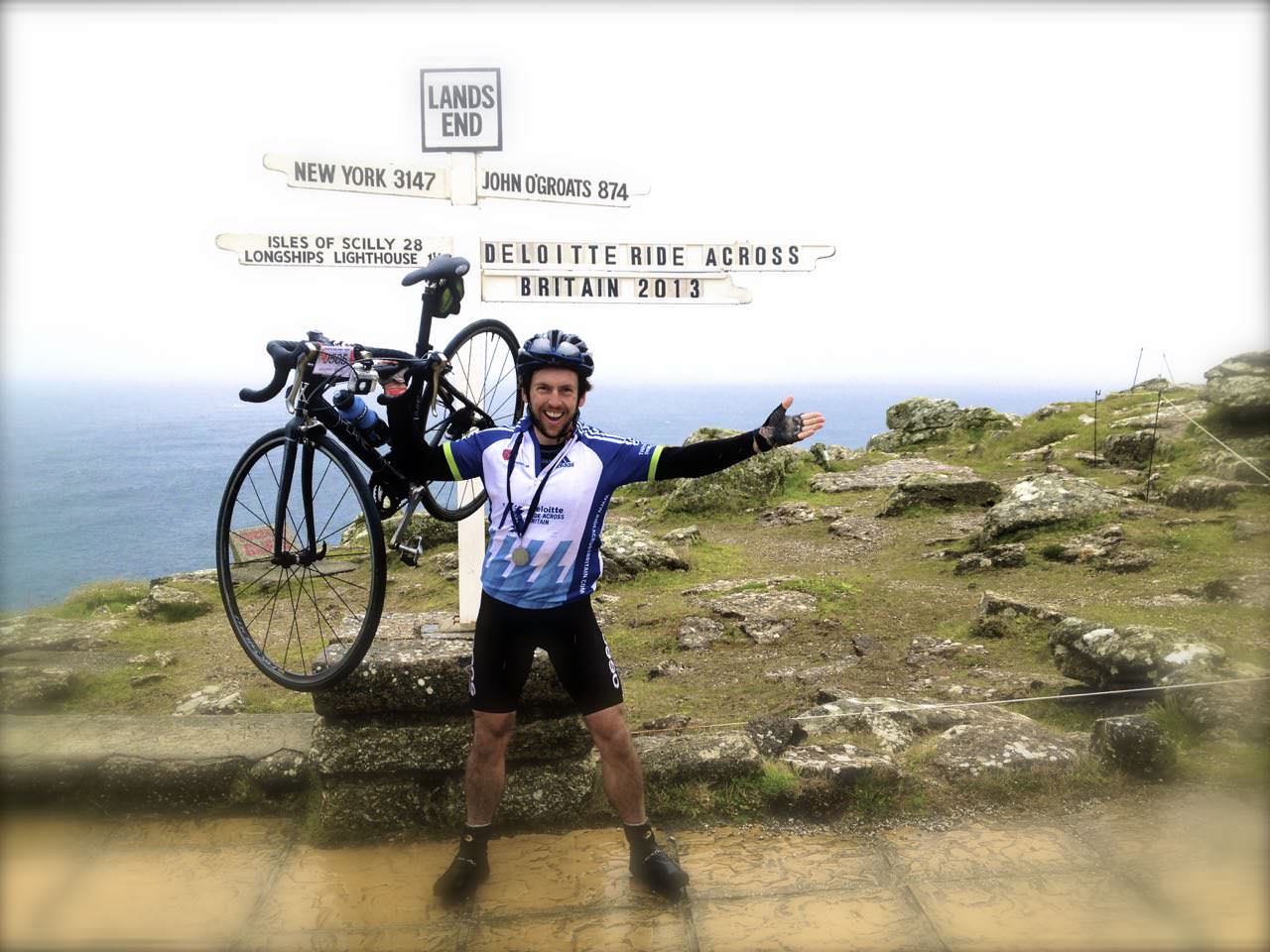 Rather, they were some of the most courageous people I've come across.  And the nicest.  Having done plenty of Ironman events where jaws are set in stone as people strut around the place in an aloof air of confidence, on the RAB, you can arrive alone and knowing no one, but leave with 700 friends.  Similar to the French custom of saying 'Bonjour' to any random stranger you pass, it would have been rude to not to give a nod of respect as you pass someone.
With Halfords having come to my rescue with a new chain, I rolled into a blustery and wet Land's End, wind swept, soaking wet, tired but extremely happy.  Despite the physical hardship, I have experienced a sense of camaraderie that I've never known before.  But the smile is back on my lips because this was one challenge I'll never forget!
Written by Tobias Mews and originally published in Outdoor Fitness Magazine