On Saturday 2nd May, HardasTrails contributor and avid cyclist, Rachel Pye, will be heading up to Yorkshire for what might become one of the biggest cycling events in the country: the Tour de Yorkshire Ride.
---
It's not every day that you get to share the start line ( along with 6000 other people) with two living legends: British ex-pro cyclist David Millar and five time winner of the Tour de France, Bernard Hinault or have your food prepared by a celebrity Michelin-starred chef. But then again, the Maserati Tour de Yorkshire Ride isn't just any old ride.
Taking place on the same day as the third and final stage of the Tour de Yorkshire and sharing parts of last year's Grand Départ route, we're preparing ourselves for what could be a glorious day, with a number of cheeky climbs to look forward to, including the 'Cote de Goose Eye' and infamous 'Cote de Cow and Calf' up onto Ilkley Moor.
Although there are three distances on offer, 50km, 108km and 140km, all starting and finishing at Roundly Park in Leeds, we naturally couldn't resist the longest and toughest.
Celebrity chef on course
In line with its ambition of enhancing the experience of the British cycling community, Maserati has also recruited Michelin-starred chef, Alan Murchison, an age group duathlon world champion to apply his skills at the 100km feed station on Ilkley Road. Bearing in mind we're likely to be fairly ravenous by then, we'll be looking forward to tasting some of his recipes.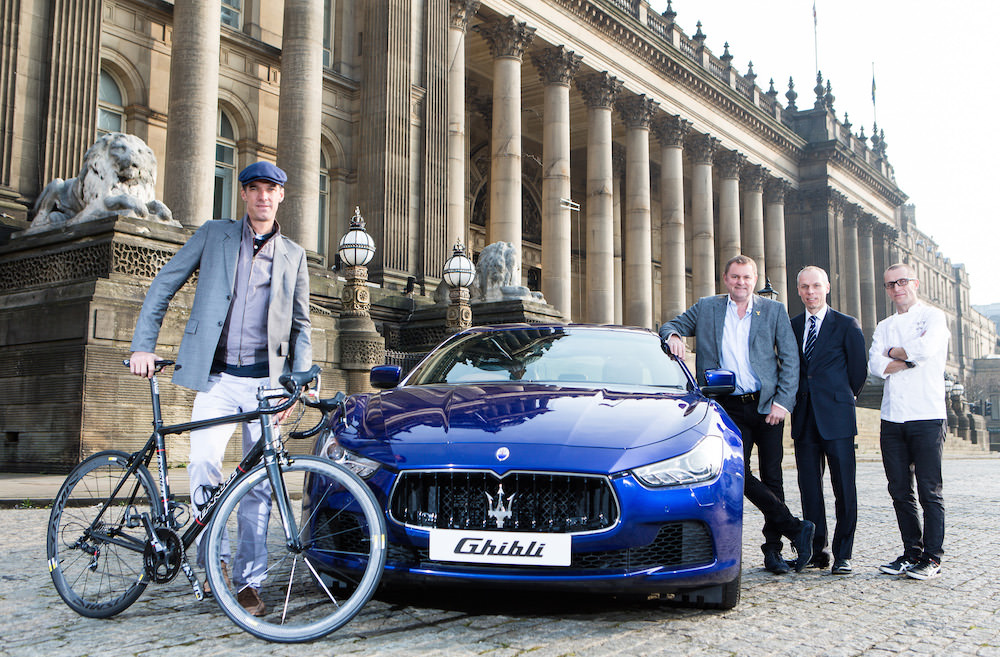 Rather annoyingly, we don't quite know yet what's in store for us, as Alan's keeping the the exact recipes remain under wraps:
'As a keen cyclist myself, I know how tired you can get of sticky sports nutrition by the end of a ride. I will be looking to use fresh Yorkshire produce and apply an Italian twist to surprise and delight riders, and give them the boost they need to see them home.'
Loking back at the 2014 Grand Depart
In case you weren't in the know, The Grand Depart of the Tour de France is traditionally hosted somewhere outside of France.  The last time this event was brought to the UK was in 2007, taking professional riders from London to Kent, over the iconic North and South Downs.  But when it was decided the Tour would come to British soil once again, it headed north to the iconic Yorkshire Dales.  This is a part of England where anyone born and bred from 'God's Country' is as proud of Yorkshire as if it was a nation itself – a fact that the 2.5 million people who flocked to the Dales to line the route will testify to.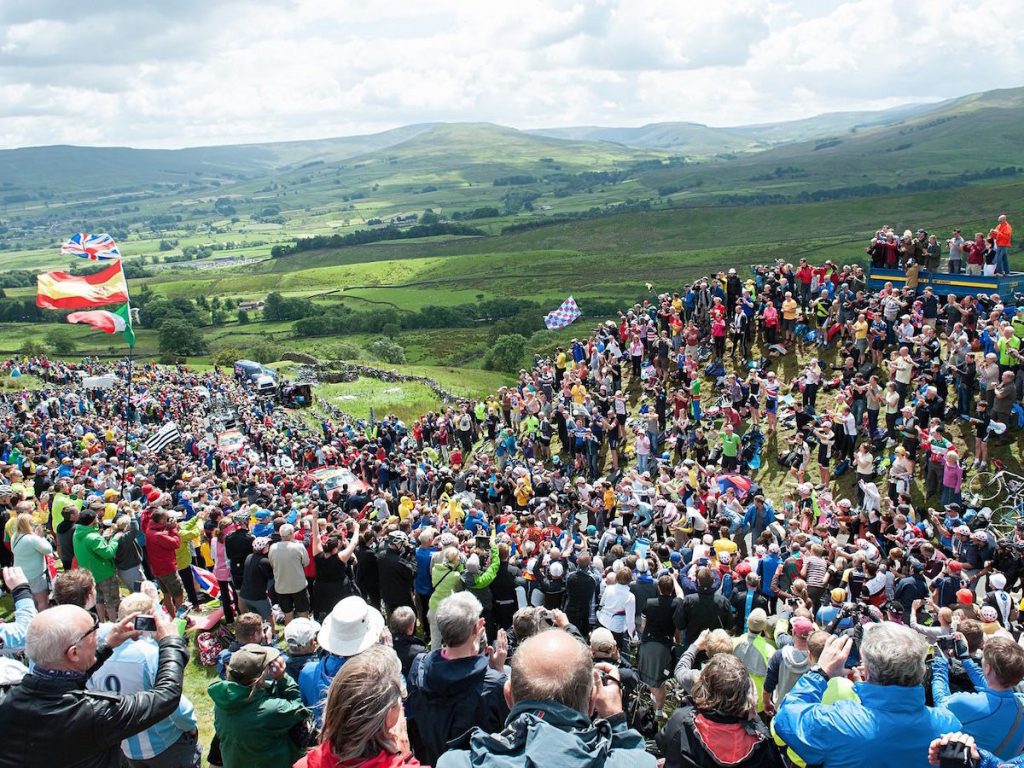 The event was truly spectacular thanks to the locals whole-heartedly embracing the Tour, from houses painted bright canary yellow to local sheep whose coats had red poker dots on them.  The Tour experience was summed up by the Race Director Christian Prudhomme, who described Yorkshire's Grand Depart as the grandest' in the 111 year history saying:
'I can see the Tour in their hearts, and in their eyes. For that, I say thank you to everyone in Yorkshire who has made this Grand Depart so very, very special.'
My riding partner – Charlotte Roberge
Although I'm very happy in my own company, I have the opportunity of sharing the Ride with my good friend and fellow Clapham Chaser, Charlotte Roberge.  Charly and I have known each other a number of years. She was always such a hardy cyclist, getting stuck in with the fellas in cycle training, at a time when cycling wasn't well represented by women.  I specifically remember the cycle drills she brought over from Montreal – being able to pick up an empty Coke from the floor, whilst riding a bike at speed in order to test her bike handling skills.  Together we have been over to Spain, Andalucía as well as cycling a good few cycle sportives in the UK together.  We love talking bikes, races, training, more often than not, over a nice glass of wine. 
Expectations 
The Maserati Tour de Yorkshire Ride is a challenge that will certainly excite the most enthusiastic of cyclists, mainly because of the chance of riding the same route as the professional racers as well as the opportunity to cover a similar distance and terrain.  Although I've explored a lot the UK on a bike, the Yorkshire Dales is somewhere I'm not too familiar with – so this will be new territory!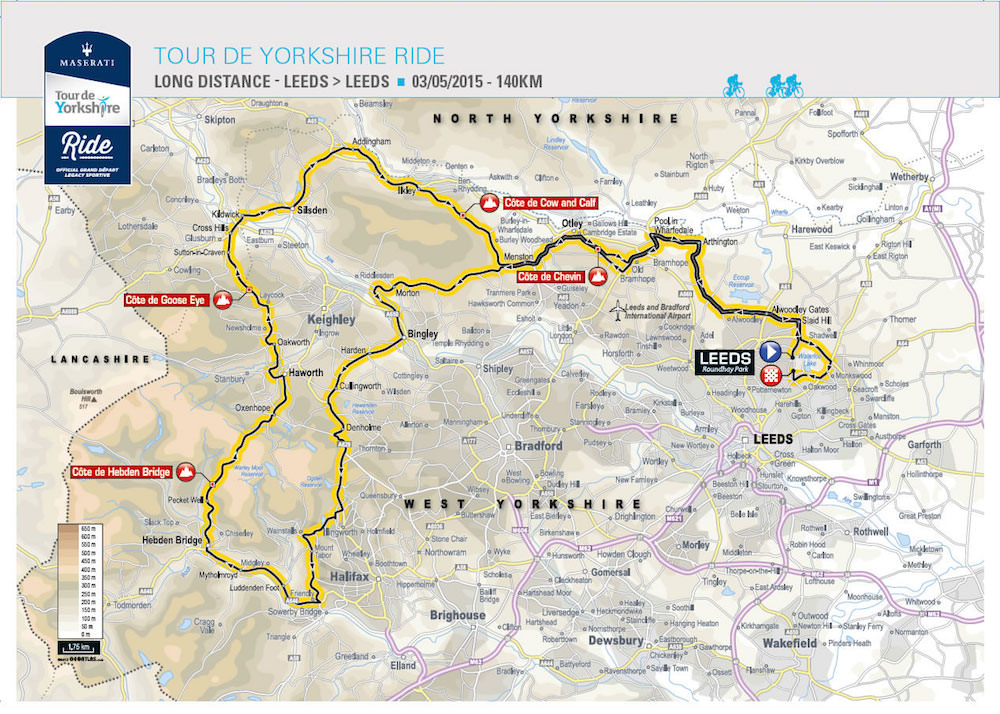 Having chosen to do the 140km route, Charly and I are both super excited about the Ride. And knowing that we'll be in the company of David Millar and Bernard Hinault (although they'll be up the front) will be an inspiration to keep us pedalling if we hit a low point.  Having looked at the course and watched David Millar's video (see below), the climbs will test our leg power, but as my father now repeats to me on a regular basis, 'Just tell your legs to 'shut up'.  Neither of us are adverse to the odd hill or two in training, with most of our rides going up and down the Surrey and Kent hills, so hopefully they'll stand us in good stead on the four key climbs: Cote de Chevin, Cote de Hebden Bridge, Côte de Goose Eye and Côte de Cow and Calf,
[stag_video src="https://youtu.be/5WuVTdv6fvI"]
About Maserati
The luxury car brand Maserati hardly needs any introduction. But what you might not know is that recently launched Maserati Cycling, a new programme designed to celebrate the marque's affinity with the sport and to offer a series of unique experiences for Britain's road cyclists, and have appointed retired pro-cyclist David Millar as its Maserati Cycling Ambassador.