[stag_intro]The Cairngorms is the biggest of all Britain's National Parks. It's also home to four of the five highest mountains in the UK, has the largest area of native woodland and Scotland's only funicular railway. As with every National Park they've listed, it's almost impossible to decide upon what to do. But then Tobias and Dave came up with a cunning plan – to create a bike and run vertical kilometre challenge from Aviemore to the Ptarmigan ski station on Cairngorm Mountain.[/stag_intro]
Having done over 200 races and written a book about my love of racing, it's fair to say that I love to challenge myself and could be described as quite competitive. So when I discovered that it's give or take a 1000m climb from Aviemore to the 3,500ft high Top Station (also home to the highest post box in the British Isles), sitting not far beneath Cairngorm Mountain, I got rather excited.
A few phone calls later to Sally from Mike's Bikes in Aviemore, I learned there's a mountain bike path, the Old Logging Way, that hand rails much of the road to the Cairngorm Mountain ski station car park. The genesis of an idea was beginning to form and I knew it was time to phone a friend who'd be well up for a crazy idea: a Vertical Kilometre (VK) bike and run up Cairngorm.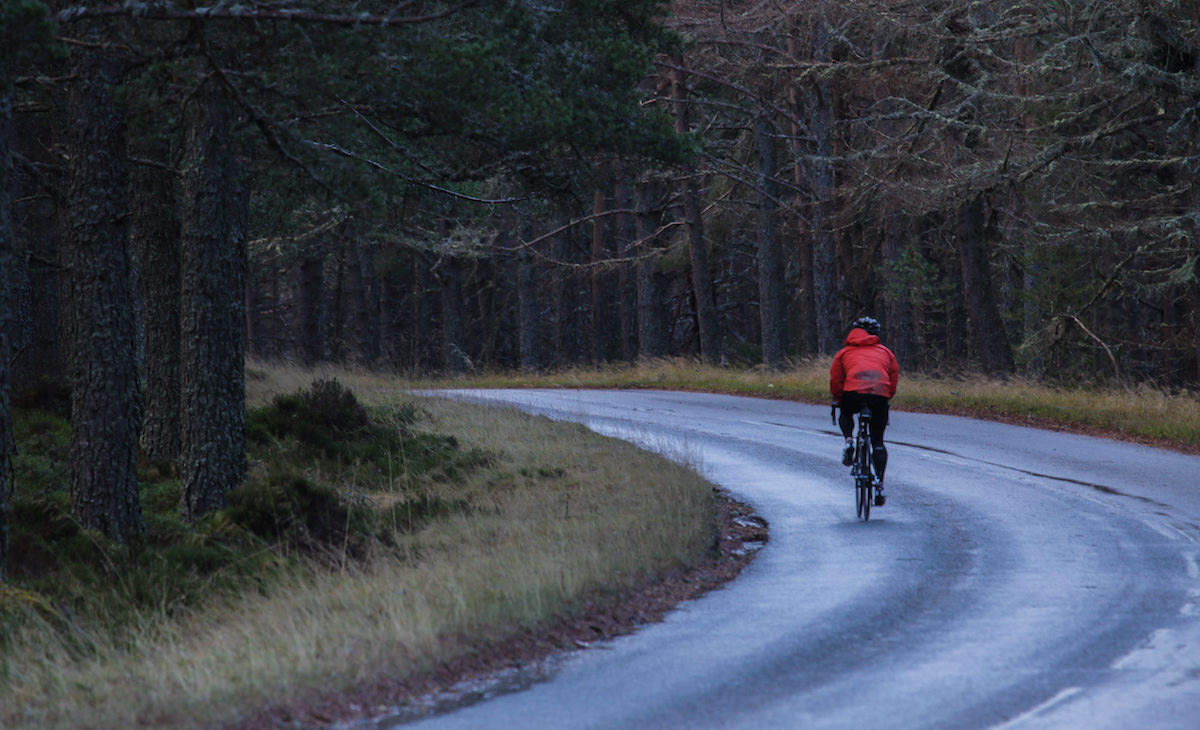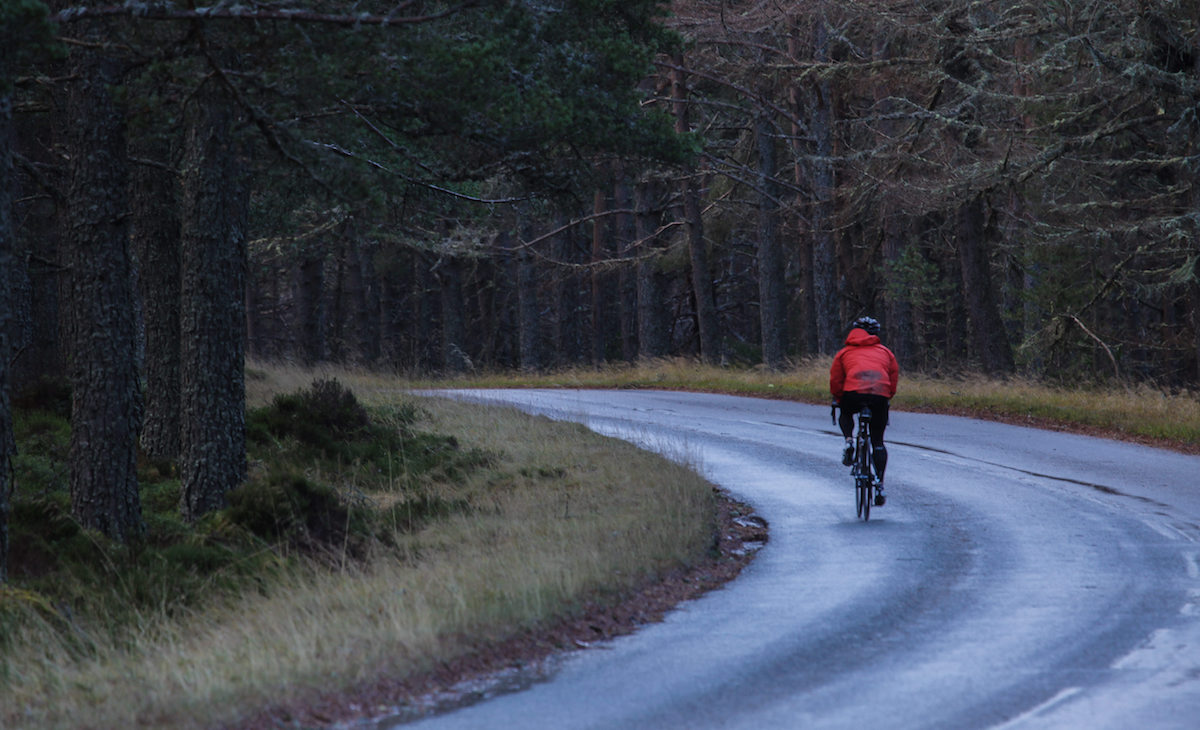 As Dave would be needed to film and photograph (alongside drive the MINI Countryman up to the ski station), I'd need a willing accomplice. Enter stage left, Reuben Tabner, a fellow outdoor photographer, blogger and trail runner/mountain biker who lives up in Inverness. Luckily his wife gave him a pink slip, so he popped down on the train to Aviemore where we met him this morning.
So many options, so little time
As anyone who's visited the Cairngorms before (or simply glanced at their website), there are tons of things to do. And considering I'd never visited this area of Scotland in an official sense (less for cycling through it during the Ride Across Britain), I was agog as to the numerous possibilities.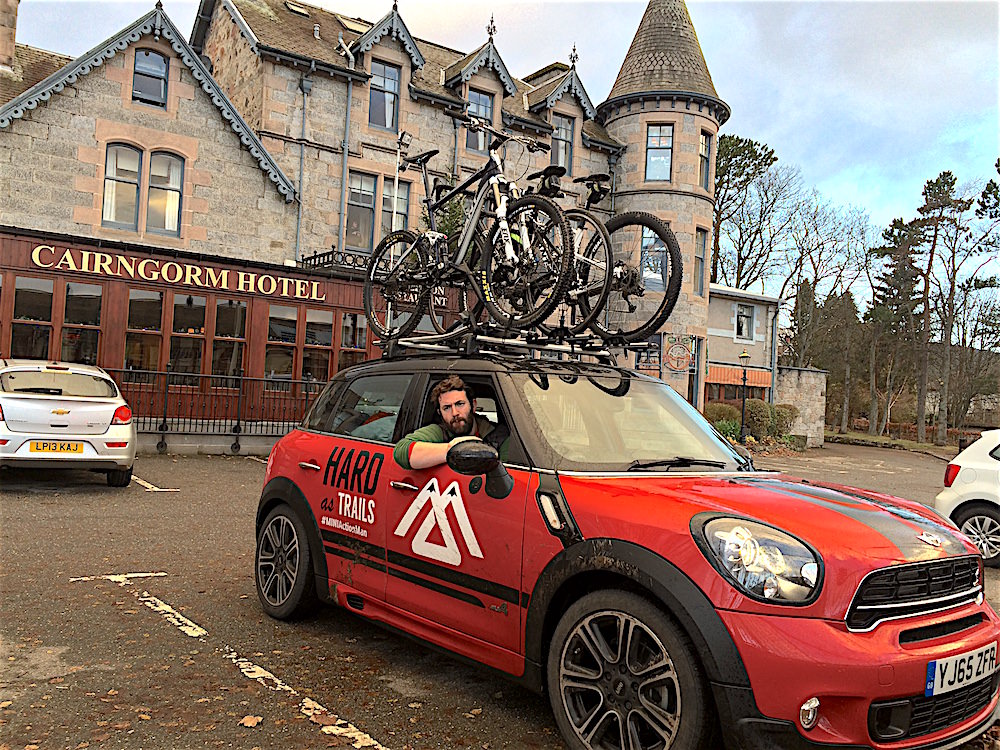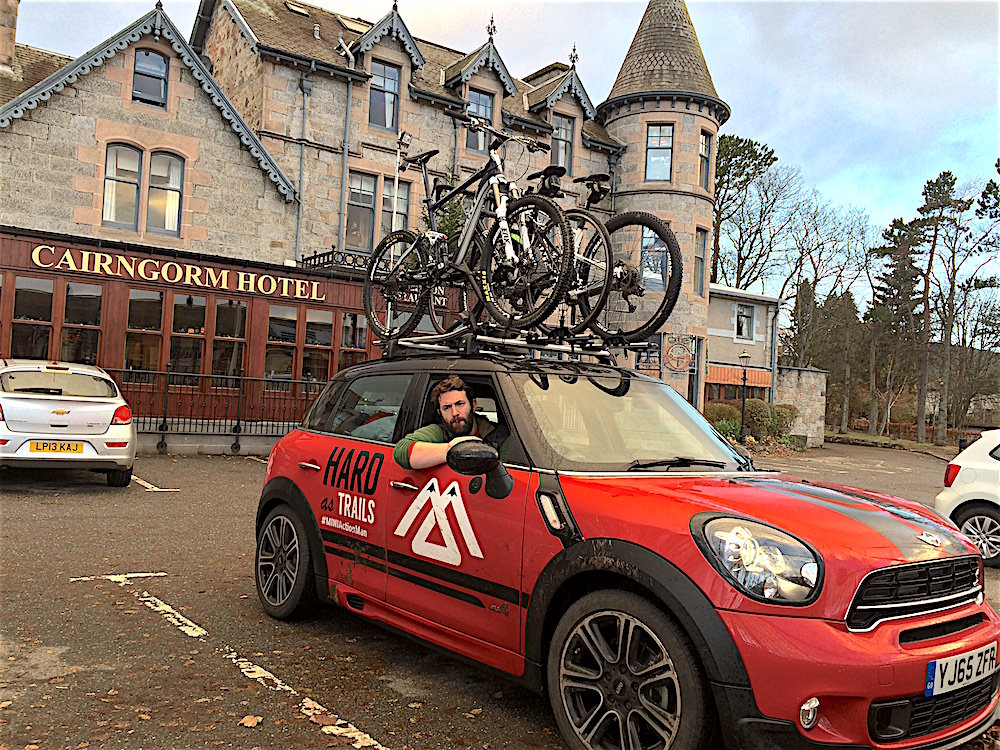 Originally, I'd hoped to ski tour around Ben MacDui – the highest mountain in the Cairngorms and the second highest in the UK. Sadly, this idea was squashed by a significant lack of snow – a useful ingredient for ski touring. The second plan (if there had been snow) had been to fat bike the Burma Road trail behind Aviemore. All great ideas, but considering the weather forecast on the MWIs.com but somehow the lure this bike and run challenge up the Cairngorm Mountain ski road and on to the Top Station was just too good to miss.
The nice thing about this challenge is that there are a host of options to suit your fitness level and or your appetite for adventure. You can mountain bike up there, or take your road bike. Indeed, the 9 mile route from Aviemore to Cairngorm Mountain is a well known cycling climb with about 1400ft (426m) of ascent.
The first half of the route, which passes through Glenmore Forest Park, is fairly easy going. But as soon as you pass Loch Morlich, a rather fabulous lake that would lend itself to a triathlon, that's where things start to get punchy. Reuben was riding the Old Logging Trail on my Giant Anthem X 29er, which to be fair was a little small for him and caused him to mutter on a few occasions how much easier would have been on thin tyres (or a larger bike). But whatever your mode of transport, there's no easy way up to the ski station, except driving there. Which Dave was certainly enjoying in the MINI, although he did say that it got a bit blowy with the bikes on the roof.
However, it wasn't just the ascent which was punishing, but the headwind and rain blowing into us we grunted our way up the mountain. But then again, it wouldn't be challenging if there wasn't a bit of grunting.
With a funicular railway taking 250,000 visitors up to the Top Station each year, this is certainly the quickest way to get to there. And when we were told about the minus 8 degree wind chill factor at the summit to add to the 40mph winds, it would have been very tempting to sack off the run and jump on. But that would be cheating.
Running up Cairngorm Mountain
After putting our bikes back on the bike rack of the Countryman (something we were well-practiced at doing), we swapped bike helmets for our running backs and set off up the mountain.
Within moments my calves felt like they wanted to explode. Living in London hills don't feature much in my daily running routine. And after yesterday's running around the Cheviot Hills in Northumberland National Park, my legs were beginning to wake up. But not enough to combat the wind, which had begun to pick up to the point where it sometimes felt like a proper uphill struggle.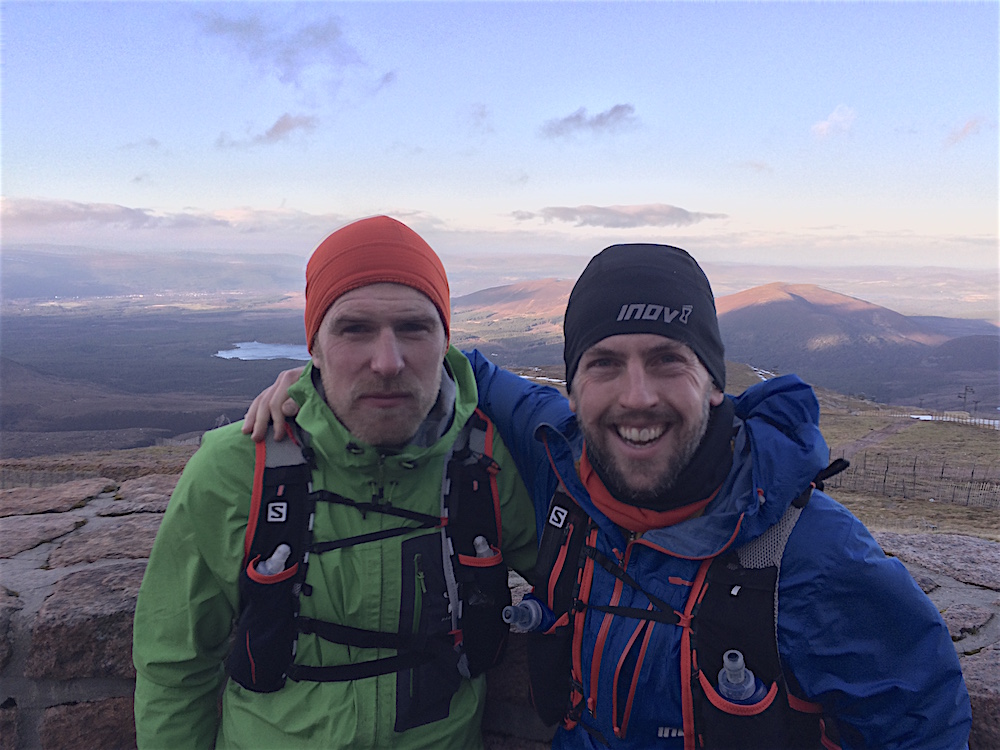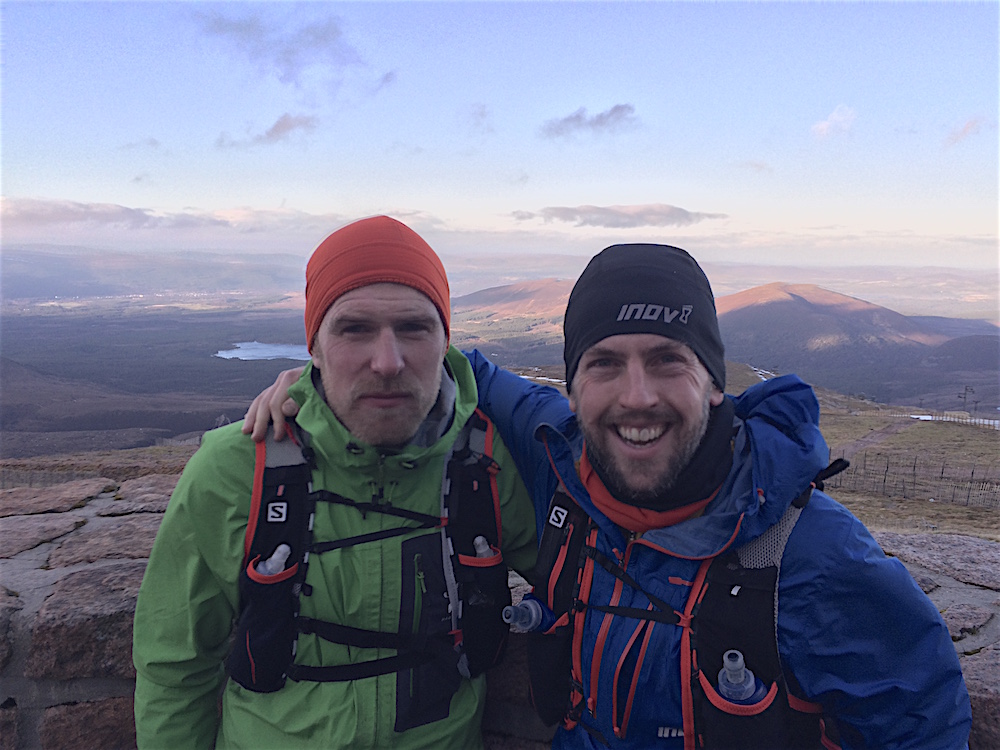 But 35 minutes later we reached the Top Station. Considering the lady at the Funicular kiosk has said it takes about one and a half hours, we were delighted that it hadn't taken so long – especially being only 2kms long. However, there was no sign of Dave. He'd missed the train (which leaves every half hour), so we'd actually managed to beat him up there.
Race the Funicular
We'd wanted to continue up to Cairngorm Mountain, but as we still needed to get down and drive to Loch Lomond, our next National Park challenge, we decided to take stop at the Ptarmigan Restaurant and enjoy a well deserved lunch.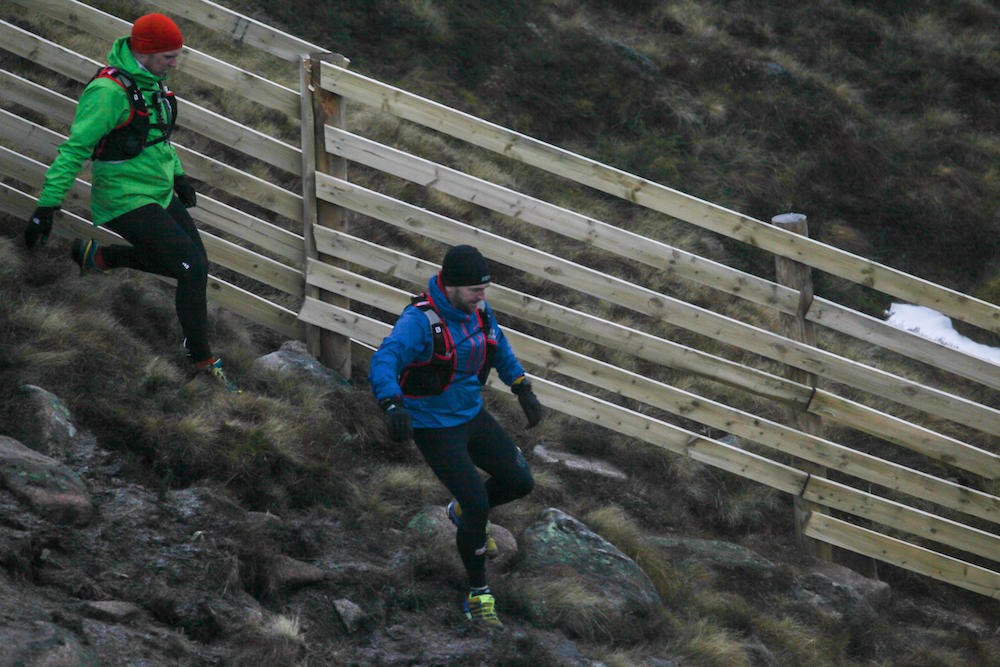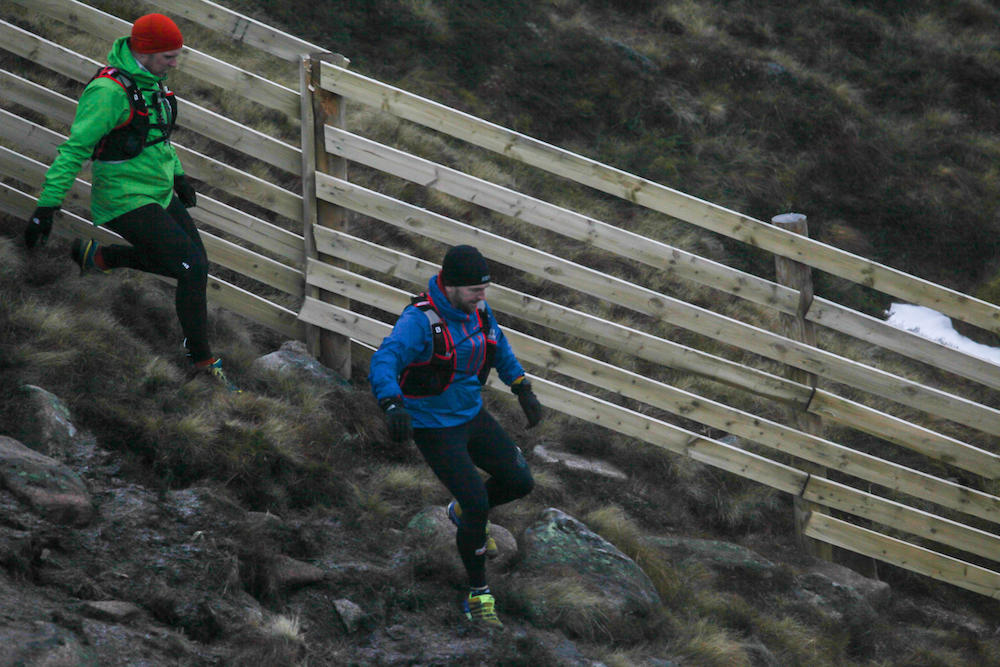 On our way down the mountain, we thought it would be fun to see if we could beat the funicular. So, saying farewell to Dave as the doors to the train began to close, we legged it out of the Top Station and down the mountain, feeling like kids running down the hill with wanton disregard. Until we reached the snowy sections when old age caution started to take control of our minds.
However, a smidgen over 10 minutes later we reached the Car Park. And because it takes a few minutes to get out of the Funicular, we'd actually managed to beat Dave. High five to us!
We will be back
As we said farewell to Reuben and drove the MINI out of Aviemore, Dave and I both decided we need to come back to the Cairngorms. As with each of the National Parks, we feel this sadness to leave them, but simultaneous excitement and going to the next. But the Cairngorms are a bit different. Perhaps it's because being in the mountains makes me happy. Or perhaps it's simply I feel this National park, alongside Loch Lomond, where we're heading next, are places that I simply don't know well enough. Regardless, the Cairngorms are full of wonder and adventure. And we've only brushed the surface of this breathtaking National Park, full of wonder.
[alert type=red ]Tomorrow, we're running along the West Highland Way off the shores of Loch Lomond. [/alert]
Where to stay
Being a ski resort and a mecca of outdoor activities, there are tons of places to stay in Aviemore. However, we decided to stay at the Boat Hotel, in Boat of Garten.
Where to Eat
Although we ate dinner at the Boat Hotel, which was very good, if we'd had more time we might have gone to Ski-Ing Do – what Dave described as a 'legendary steak bar'.
How to get there
The drive from Wooler in the Northumberland National Park took us about 4 hours, including a few stops. However, the Cairngorms aren't far from Inverness and in fact, you can get from London to Aviemore in about 3 hours by plane – which makes is very accessible.