[stag_intro]Although no stranger to the rigours of mountain biking, our resident Hard as Trails contributor, Jeremy Stain, discovers that the Summer Monkey Mountain Bike Endurance race is not for the faint of heart. [/stag_intro]
[stag_divider style="strong"]
I approached the Summer Monkey Mountain Bike Endurance race with some trepidation. Even though I had only entered the 4hr category, this would be my first race (of any kind) in well over a year and I knew I was seriously out of shape. Also weighing on my mind was that my previous outing on the Caesar's Camp course in Surrey, had ended abruptly with an unplanned cart-wheel into an icy pond,  a bust collarbone and a mild concussion that I think we'll put down to "rider error".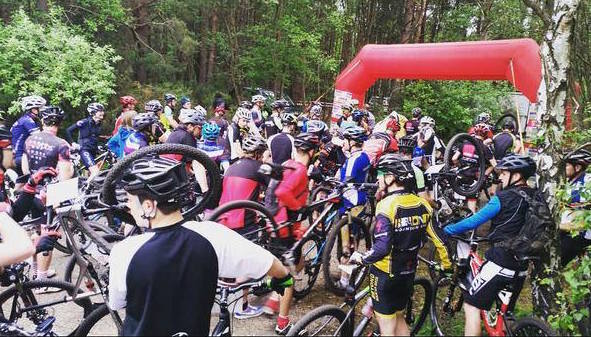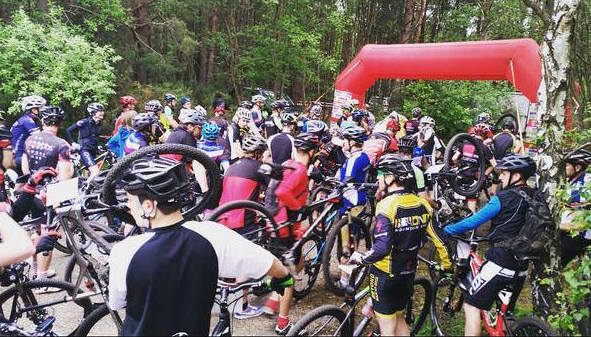 Given this past experience, I was pleased then to hear that a late-notice change to the race venue had been made to the Frith Hill MOD estate at Deepcut. One of the great features of Gorrick's partnership with the Army Cycling Union, which has helped to promote the Brass Monkey winter events and the less catchy titled "Summer Monkey" races, is the access these events have to MOD estate land. –Closed to the public outside of these events, they provide a refreshing change from the all too familiar Swinley Forest and North Downs playgrounds for SW London's mountain bikers.
The event setup is a seriously No Frills affair – Registration tent, burger van, start line – quite the opposite of Rachel Pye's experience at the Michelin* catered Tour de Yorkshire Ride. But what it lacks in amenities, is made up for in spades by what's really important – an interesting, well prepared, well-marked route put together by a friendly team of volunteers and mountain bike enthusiasts. Main route setter, John, happily interrupts his bacon buttie to show me where to stash water, chat about route conditions and advise me on tyres.  Similar to cyclocross, tyre geeks abound at mountain bike races and the start line banter centres on "Ralphs", "Rons", and "Renegades" (names of popular fast Cross-Country tyres) – Our equivalent of the roadie's fixation with ceramic bearings, carbon widgets and titanium nipple rings.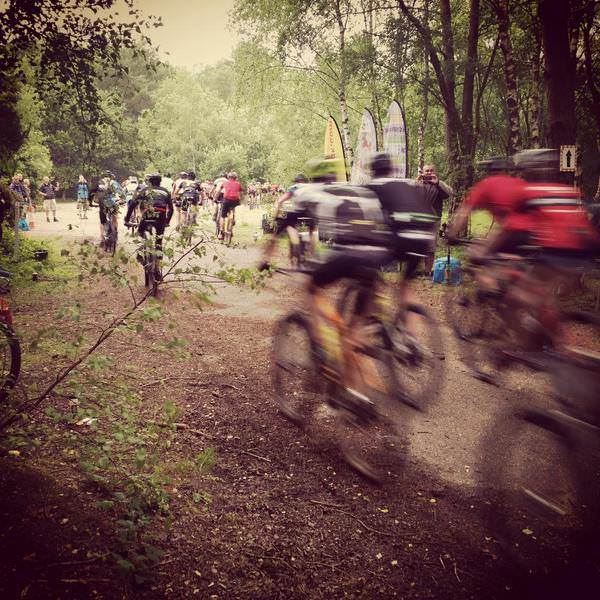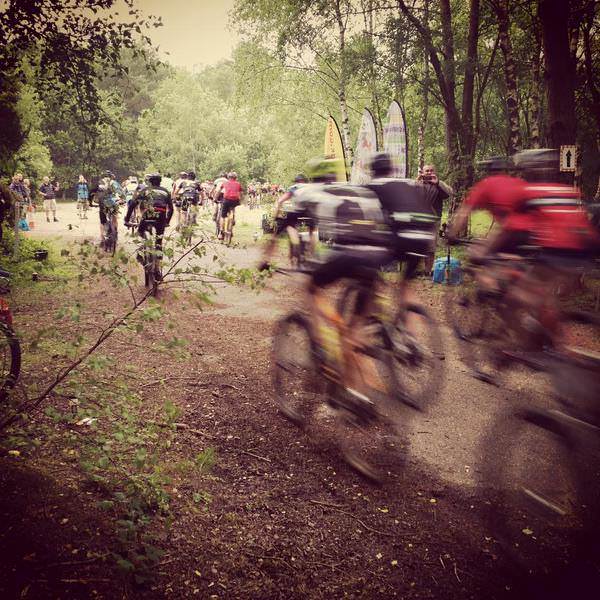 We set off at 9:00 for 4 hours of racing around a 6 mile lap of narrow, twisty, woodland single track – interspersed with a few short sections of wider firetrails. The pace starts off surprisingly high on a starting section of concrete and gravel road, stringing the group out before plunging into the first section of single track. From that point onwards it's all about concentrating on the course, trying not to dab a foot while the group occasionally bunches up at obstacles and trying as much as possible to stay off the brakes in the tight corners – at least until the next lap, where I'm sure the riders will have thinned out.
"Mountain bike races on tight, twisty single track like this are a seriously high intensity pursuit."
More importantly for me, this race is about testing where I'm at from a fitness perspective and starting to re-learn the all-important bike handling skills of XC racing – and it soon becomes clear that I've got a lot of work to do! Another similarity with cyclocross and unlike many other sports I've tried, mountain bike races on tight, twisty single track like this are a seriously high intensity pursuit. The combination of short, sharp climbs, and the bursts of effort needed to maintain speed through the technical sections means that there's no real opportunity to get into a steady rhythm and maintain an "endurance" heart rate…you go into the red on the first climb, and stay there until you get off, or fall off!
Three laps in, after about 2hrs 15 and I'm starting to suffer. My occasional cycle commuting and weekend riding hasn't done much to prepare me for today and my technical skills are really rusty.  I grab a  handful of brakes coming in to each corner, lose too much speed and have to work hard to accelerate on the way out.  the harder I'm working, the more ragged I'm getting, losing time on a downward spiral.
"The harder I'm working, the more ragged I'm getting."
The next couple of laps are incredibly hard work, and it's all I can do really to cling on, avoid cramping up and finish just outside the four-hour mark. My performance was woeful compared to almost everyone out there today, but I've learned a lot and after letting my heart rate settle and inhaling a tub of left over pasta in the carpark…I'm remembering how much fun it is and starting to think about what's left of the summer season.
To find out more about Gorrick's MTB series, visit their website or if you're interested, there's still Round 2 and Round 3 of the Brass Monkeys, dates TBC. 
[column size=one_half position=first ]
TOP TIPS
Just do it: I don't think there's any substitute for racing to get fit and fast for well… more racing. Enter some races, get your butt kicked and come back faster.
Get some skills: practicing basic cornering and bike handling skills can make you much more efficient.
Look after your bike: it's easy to break a chain in this type of event, make sure you keep your bike well maintained, clean and lubed.
Be prepared to fall: It will happen, but it (usually) doesn't hurt that much!
[/column]
[column size=one_half position=last ]
KIT
Hardtail or Full Suss, 26, 29, 27.5, single-speed or even fatbike…..there are way too many choices, and even more opinions… I ride a Specialized Epic 29er – it's great, but I find it to be very high maintenance in wet / muddy British conditions – I'm perpetually cleaning and maintaining it.
Get geeky about rubber – find your own confidence in the grip / speed trade off of different tyres in different conditions.
Leave the Asos at home – unless you're 3rd in line to the Rothschild fortune – don't wear kit your scared to get scuffed or ripped.
[/column]