When I first laid my eyes on the adidas Terrex Boost at the launch event earlier this year in May, I couldn't wait to give them a run for their money. Described as a 'lightweight mountain running shoe', they oozed quality – a hard wearing Continental rubber sole with deep lugs, a clever lace lock system and of course, the award-winning Boost midsole. So how did I get on with them?
Well – the simple answer is, the more you put in, the more you get out. I'll try to explain.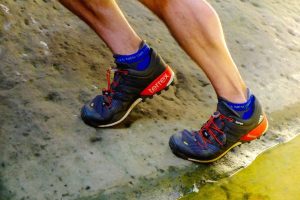 On their first outing – a gentle 5 mile run around my local park – I was quite surprised by how little 'Boost' I felt – the revolutionary cushioning that's propelled it's sibling, the Energy BOOST to stardom. That is until I started running more on the heel – which is the only part of the shoe that feels cushioned and in complete contrast to the forefoot, which feels stiff by comparison. The only snag is, I'm mid foot to forefoot runner – which means that unless I'm really tired or in need of changing my gait, then the springy heel is of no use to me. Unless – I go speed hiking.
Indeed, if I had to choose this shoe for any purpose, it would be speed hiking or fast packing – something like the Tour du Mont Blanc or the North Downs Trail. But I wouldn't use it as a trail racing shoe – simply because it's too stiff for my liking. But that's just me.
I also noticed that due to the lack of material around the upper (which is great for drainage), unless you're wearing comfy socks, it can feel a bit abrasive. However, this is not the case with the Gore-Tex version – the adidas Terrex Boost GTX shoes.  These are super comfy – and really do work if you're keen to keep your toes dry.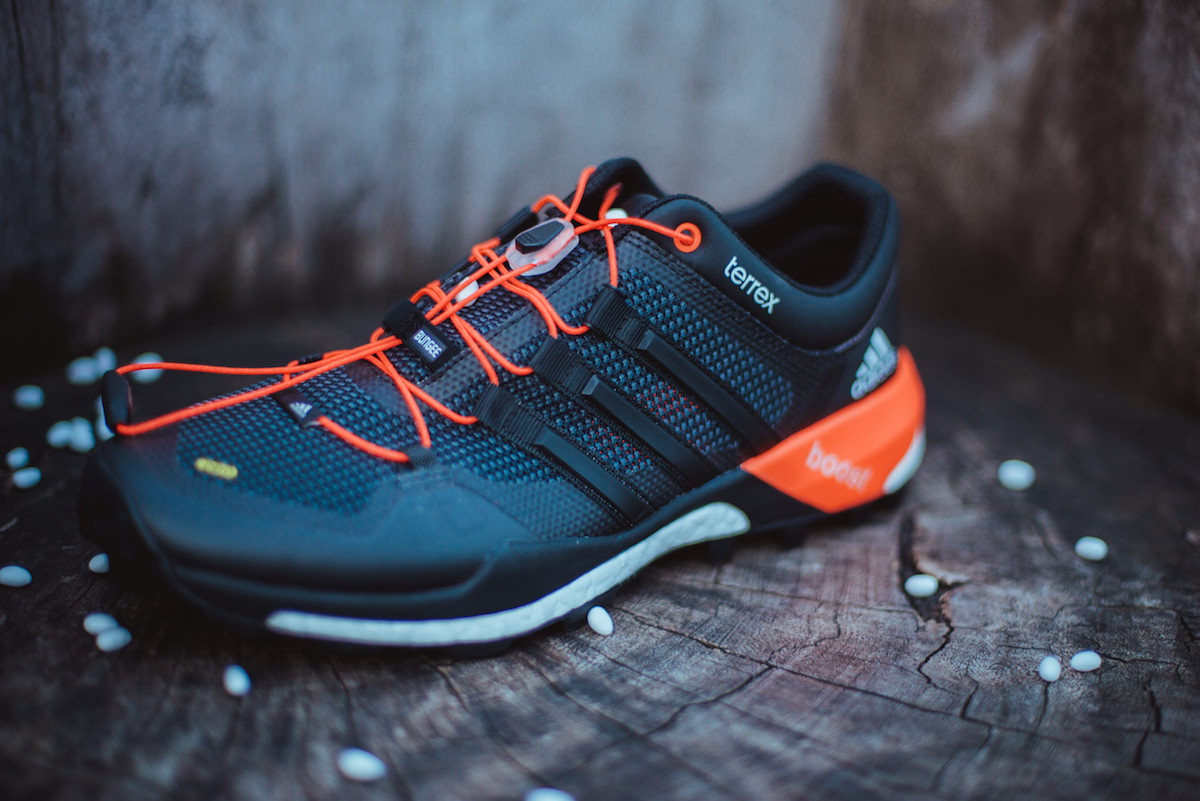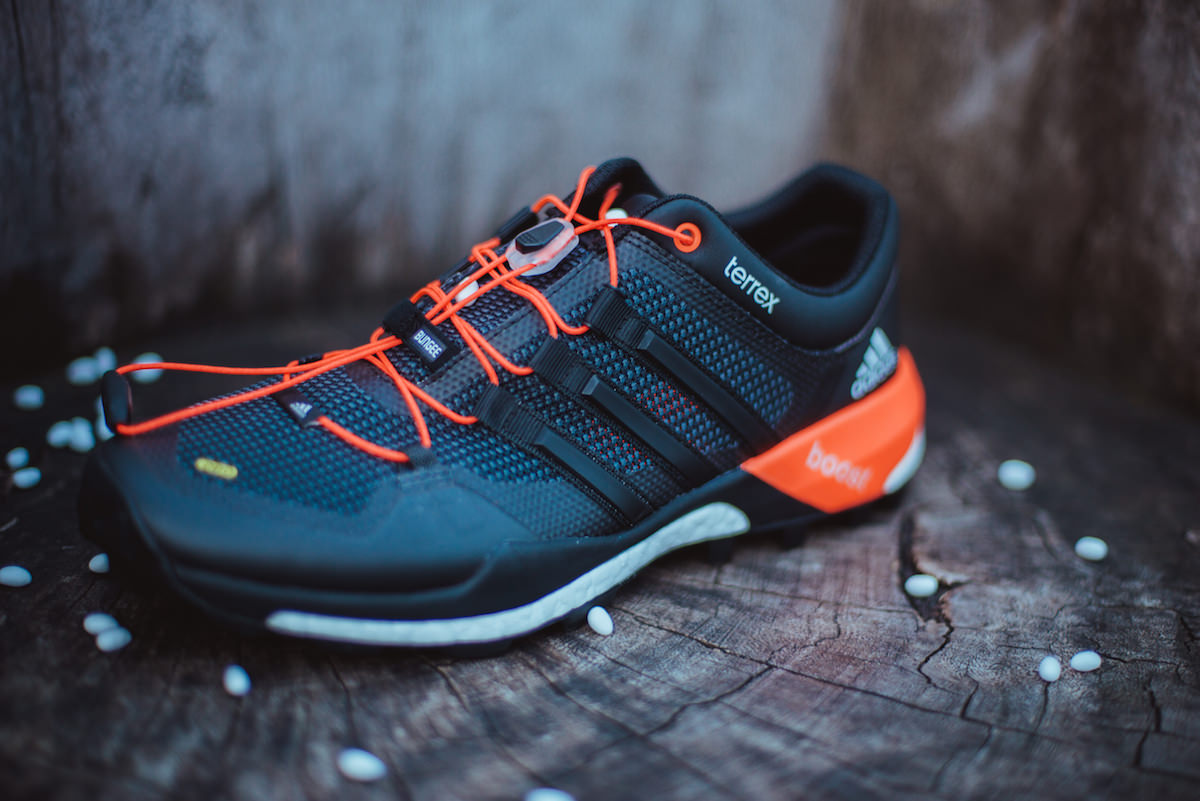 But the more I run in these shoes, the more I like them. Part of the reason is that I'd been suffering from bruised metatarsals – something these running shoes helped me with.
Now, when a shoe company, such as adidas, launch a 'revolutionary new shoe', it tends to be packed full of claims and promises, to the point that when I read the technological jargon used to describe them, which often has lots of patent pending/trade marked technology, I'm not entirely clear of the benefits. So, I've broken down what adidas say about the shoe below, offering some comment on each point – which you can access by clicking on the toggle feature. Hopefully this will be of some help to you when deciding whether to buy this running shoe or not.
adidas claimed Features & Benefits:
[toggler title="Upper: speed-lacing construction for fast and snug lacing "]I liked the lacing system. It gives a snug feel around the foot, however, the little black button that you slide to open the laces is sometimes quite tricky to use. And although it has a little loop to tuck the laces in to, when drawn tight, you need tuck the ends of the laces under each other to stop it flapping about.[/toggler]
[toggler title="Torsion: Torsion bar / PRO-MODERATORTM for midfoot stability"]If you were to try and bend the shoe, you'll notice it doesn't give much flex. This is ideal if you're speed hiking or looking for some degree of stability for your foot. However, on the whole I don't believe that a trail shoe should need stability – by virtue of the fact that the surface is anything but flat.[/toggler]
[toggler title="Midsole: BoostTM offers endless energy in the mountains and high adaptability on rocky surfaces"]From my experience of using the shoe, 'endless energy' might be a bit of an overstatement. However, the protection and cushioning against sharp rocks is excellent. And there's plenty of 'Boost' in the heel – should you be hiking.[/toggler]
[toggler title="Outsole: Continental® rubber for excellent grip"]I'm a big fan of Continental rubber sole shoes and these are no exception. Lots of grip, hard-wearing – can't complain.[/toggler]
[toggler title="High adaptability on rocky surfaces and a low-to-the-ground feel"]As mentioned above – great protection on rocky trails (which can be handy if your metatarsals are a bit bruised) but I'm not certain the 'low-to-the-ground feel' is entirely true bearing in mind the size of the heel.[/toggler]
[toggler title="Sock-like fit"]I'd agree that they fit well. However, the toe box is quite narrow, which might not be to everyones liking. The GTX version is even more comfortable.[/toggler]
WEIGHT

: 330g (MEN'S UK 8 1/2) 280g (WOMEN'S UK 5 1/2)
Summary
Having been wearing these shoes for four months and using both versions (standard and Gore-Tex) in anger, I've grown to like the adidas Terrex Boost. I've run around the Drakensberg mountains in them, hiked national trails and used them for walking around my local common. These would be my go to shoes for fast packing or speed hiking, but I'm yet to use them for a race. I prefer the GTX version of the shoe but enjoy wearing both.
Miles run in them: over 100
Races I've used them in: 0
Good for:
Speed hiking, Fast packing, Rocky mountain trails, Scrambling, Muddy trails
Not suitable for:
Tarmac