[stag_intro]The Norseman Xtreme Triathlon is one of those races that you hear whispered about with a mix of awe and trepidation. Known as the 'toughest Iron distance triathlon in the world', it's not for the faint of heart. Indeed, jumping out of a car ferry into a freezing cold fjord, swimming 2.4 miles before a 200km bike over 5 mountain passes is just the warm up for the marathon with a sting in it's tale: a 2000m high mountain, upon which you'll find the finish. This race is all about the t-shirt. And it better be black![/stag_intro]
[stag_divider style="double"]
[stag_dropcap font_size="170px" style="normal"]T[/stag_dropcap]he telephone rings.  'Hello mate!' It's my friend Alan Scott.  'So, do you want the bad news or the really bad news?'  I hate it when I'm asked this question.  With a week to go until we tackle the world's toughest long distance triathlon, I was secretly hoping that he might simply tell me that the event was cancelled.  I ask him for the 'really bad news'.
'Well, I've just looked on Facebook and someone has written that it's high tide in Eidfjord at 4:30, meaning that we're going to be swimming against the tide'.  I gulp as a sick feeling rises in my stomach, wondering whether I could actually swim 3.8kms against the tide.   'And the bad news?' I tentatively inquire.  There is a pause at the other end – 'It's forecast to rain – all day!'  I hang up on him and start looking for booze in my kitchen in order to contemplate this news.
Alan and I were preparing to travel to Norway in search of a 'black finishers T-shirt' – awarded to the top 160 who complete the Norseman Xtreme Triathlon.  Being on the same latitude as Anchorage of Alaska, it is not only the world's toughest but also the world's most northern triathlon.   If I was going to survive this ordeal, I would need all the help I can get – and the weather conditions weren't on my side!
"Being on the same latitude as Anchorage of Alaska, it is not only the world's toughest but also the world's most northern triathlon."
Now in its tenth year, the Norseman has built a fearsome, if not iconic reputation.  Iconic that is if you've actually heard of it.  A point-to-point race starting in a fjord and finishing 226kms away on top of an 1800m high mountain is not everyone's cup of tea.  Indeed you could be mistaken for thinking it was a mystical race in a land very similar to that of J.R.R. Tolkien's Middle-Earth where triathletes, starting in The Shire, have to journey through Mordor before attempting to run up Mount Doom in search of a Black finishers T-Shirt – which Frodo might have told you was a stupid idea.
Luckily, the organisers don't make it easy for mere mortals to enter the race or even get to the point of jumping off the car ferry.  The first hurdle begins in October of the previous year, when you have a two-week period to enter for a lottery slot.  When I received my invitation telling me I had been successful, I couldn't decide whether to be pleased or not – knowing that Hurdle Two was about to begin.
Finding friends to come and support you
Being an unsupported race – the next 'hurdle' is to persuade a friend or family member foolish enough to accompany you as your support crew.  The friend needs to be unswervingly loyal, as the rules state that they have to accompany you up the rocky mountain path for the last 4.7 kilometers up Gaustatoppen… and then walk back down again – on their own  – as the lift is limited to athletes only.  I was very lucky to be supported by Devon based event organisers Endurance Life (EL), who for the past five years have provided a unique support service as well as guaranteed entry to adventurous triathletes.
With your entry secured you then need do a bit of planning.  You must decide how to get to Norway by working out whether it's better to fly to Bergen (93 miles from start) or Oslo (200 miles from the start but closer to the finish).  Hire a car.  Book accommodation both in Eidfjord, where the race starts and at Rjukan, near to where the race finishes.  And finally, you need to figure out how you're going to get home.
The third hurdle is the monumental task of training for an event like the Norseman.  With over 5000m of ascent – it's difficult to replicate this type of terrain if you live in London.  The closest I could get to a decent incline was Box Hill in Surrey – which I now view as flat in comparison to what I would go through.
The final hurdle is the event itself!  Alan and I decided to fly to Oslo (I had uni friends living there) and drive the 200 scenic miles to Eidfjord.  It is during this journey that you are struck by how truly beautiful Norway is.  However, the drawback of driving from Olso is that you scare the living bejeebies out of yourself by having a glimpse of the first 90kms of the bike leg.  As we drove through the deep mountain passes, Alan and I kept looking at each other saying 'surely not' and 'did you see how steep that was?'
Registering for the event is an unceremonious affair.  You simply sign a waver admitting that you are insane and that if you die, it's not anyone's fault but your own.  We also picked up an A4 sized envelope containing the rules a few stickers, a timing chip and a green silicon hat.  And then we heard the rumors – the swim might be cancelled.   But we had to wait for the race briefing to find out more.
The Viking Gods had for some unknown reason decided that it should rain.  This had the knock-on effect of causing snowmelt water from the glaciers high in the mountains to enter the Hardangerfjord and lower the water temperature overnight down to a chilly nine degrees Celsius.  So, unless your name is Lewis Gordon Pugh –we wouldn't be allowed to swim.  Having been told by my club swim coach the week before that I only swim with one arm (I wasn't aware of this but it accounts for why I'm so slow) I almost felt giddy with relief!
But the organizers weren't going to let us off that lightly.  They had a contingency plan that involved moving the swim start six miles down the fjord to where the water temperature was a more modest 17 degrees.  Yay!  But this meant they had to move T1 to a new location and extend the bike course by 20kms to a total of 200kms.  Bugger! At this point, metaphors such as  'drowned rat' and  'caught between a rock and a hard place' entered my mind.
So, having heard that bombshell I returned to cabin with the other Endurance Life athletes to sort out our kit, eat a monumental amount of pasta and try, if possible, to get some rest.  We would need it!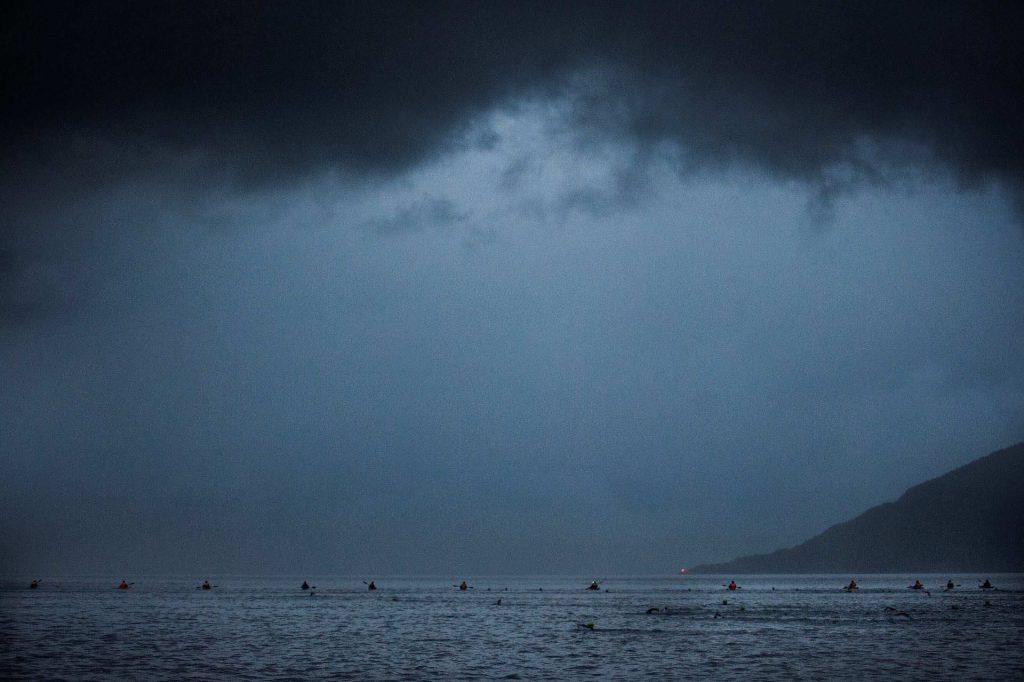 After waking up at the ungodly hour of 1.30am we headed for the ferry.  On arriving at the port, we were marked with our numbers and then boarded with nothing but our wetsuit, goggles and hat.  At 4.30 am a Norwegian accented voice was heard on the tannoy giving us a 15-minute warning call.  Suddenly, the reality of the moment was upon us.
Wetsuits on, we ventured onto the landing area of the ferry, lining up to jump the 15ft into the fjord.  Giving an obligatory war cry I jumped off, clutching my goggles as my body plunged several meters into the depths of the fjord.  Surprised that it wasn't too cold, I quickly moved out of the way to avoid being jumped upon.  But on putting on my goggles everything went dark.  I had made the rookie mistake of wearing tinted goggles for a 5am swim!  Plonker!
Casting my mind back to the briefing I remembered being told that we would have a short swim from the ferry to where the kayaks were marking the start.  What none of us had factored in was that this 'short swim' would be almost 800 meters.  Fifteen minutes later I finally reached the kayaks and before I could mutter a complaint to anyone who might have cared to listen, the foghorn of the ferry sounded and we were off.  I didn't even have time to figure out in which direction!
Naively, I had imagined that I had done a semi decent swim but when I reached the shore, I could have swallowed my goggles with shock.  On asking my support crew for the time I discovered that I had been swimming for two hours – a full 40 minutes slower than my previous slowest Ironman swim!  But it turned out that I was one of the lucky ones.  An hour into the swim (and about the same time that Tim DeBoom was finishing), the winds picked up, making it fairly choppy for the slower swimmers like me.  Despite extending the cut-off time, 27 people did not finish the swim in time.
But I wasn't aware of any of this at the time and quickly jumped on my bike to complete the 20km warm up – in the pouring rain.  The 40km climb from Eidfjord to Dyranut could be one of the reasons people from around the world come to tackle the Norseman.  Weaving along an old tourist route that was opened especially for us and with no cars to worry about, we could only stare in awe at our surroundings.   Around every turn we were greeted by otherworldly waterfalls pouring over the edges of magnificent canyon walls before we disappeared through one of the many ancient tunnels cut into mountains.  I almost didn't mind the 1250m climb to Dyranut but as soon as it flattened out, I was glad to have my gillet as we battled the bitterly cold cross winds and driving rain.  I was so cold, I had to use my wrists to change gear.
With each athlete having their own support crew it was incredible to watch the support vehicles speeding past in search of their athlete, many with spare bikes attached to their roofs.  There were times when I was reminded of the Tour de France – the only difference being that I was neither in a peloton or cycling at an average of 70kms an hour!
The last climb  – a killer of a mountain called Imingfjell – came as we approached the 160km marker.  It was here that we were warned that if we were not careful, we could loose our marathon legs (which I can account for).  Once you're up it though, you know that you only have 40kms to go and all of it down hill.  However, despite having aero bars, I spent most of the time clinging onto the drops as though my life depended on it – which it did as there were random bumps and potholes that would have made me go splat if I wasn't careful!
After just over seven and a half painful, back killing hours in the saddle I reached T2, nestled in the rather pretty town of Austbygde, to be welcomed by not only the fabulous EL crew, but also a surprising amount of sunshine.  On leaving transition a volunteer flashed a piece of paper – I was in 151st position – just inside the Black T-shirt cutoff limit of 160.
The conceived wisdom is to try and go hard for the first 25kms along the flattish road bordering the stunning lake Tinnsjøen and then prepare to walk.  Because, you'll then hit the 1800 metre high 'wall' that is Gaustatoppen.  As a decent runner, it is normally during the run leg that I start to race – being able to make up significant time from my diabolical swim.  But on this occasion, I was reduced to the dreaded Ironman shuffle thanks to Imingfjell.  Along the way, I met up with James Heraty – another member of Team Endurance Life.  Grateful to have a companion, we decided to stick together and shuffle our way to the finish.
Our sole aim was to reach the 32.5km cut off and thereby be in with a chance of gaining the coveted Black T-Shirt.  Only the first 160 athletes that reach this checkpoint within the 14:30 cutoff would be allowed to continue up the mountain.  The rest have to turn around and go back down the mountain to finish at the 1,000m mark and collect a white finishers T-shirt.  We made it, with over an hour to spare and in about 135th position.
[stag_video src="http://youtu.be/f3D51tmXfIk"]
Having picked up our mountain packs at the 37.5 km checkpoint, we painfully crawled up the mountain. The final 4.7kms is comprised of boulders, rocks and a pitiful excuse for a path.   No athlete was in doubt as to what the finish looked like.  It majestically loomed above us, an old NATO radio tower that reminded you of Blofeld's mountain retreat in the James Bond film Her Majesty's Secret Service.  It was a true slog up the mountain.  But, with James' wife Cat giving us words of encouragement we eventually crossed the line, 16hrs and 4 minutes after we set off that morning.  The view at the top was worth it – 60,000 km2 of panoramic views.
At the award ceremony the following day, the rain having returned and causing Gaustatoppen to be shrouded in mist, 223 grinning athletes gathered for the group photo.  Resplendent in our respective Black and White T-shirts – the only prize for finishing the race – we smiled for the camera, knowing that we had conquered the world's toughest long distance triathlon and got the T-shirt to prove it!
First published in Triathlete's World Magazine in 2011.