On Day 2 of Dave and Tobias' road trip around all 15 of Britain's National Parks, they swapped canoes for fat bikes, on a taster version of the Peak200 bike packing route in middle England's Peak District. They got a lot more than they bargained for, as Storm Desmond grips the country.
'This is ridiculous' I say to myself, as I pedal into a wind that has the ferocity of a Gale Force 10. I feel like a kite in the wind and the fact that I'm on a fat bike riding along a ridgeline in the Peak District National Park, isn't making life any easier. Suddenly, there's another big gust of wind and the bike lurches to the left, prompting me to stop and balance myself. I thank my lucky stars that that it isn't raining, because this particular ride that follows a section of the Peak200 could have turned out to be a rather crap day otherwise.
A storm is coming
Following yesterday's canoeing adventure on the Broads and afterwards, a rather blustery 200 mile drive to the Peak District, we awoke this morning to a howling gale. The fourth storm of the season, Storm Desmond, had arrived in middle England and it was making it's presence very well known.
As we ate our breakfast at YHA Castleton, we watched the BBC News show images of the Lake District National Park, rivers bursting their banks, sand bags being deployed around people's homes. We won't be arriving in the Lakes until the 10th, the seventh Park on our tour, but Keswick and Kendal are now underwater and the county is in a state of emergency. The speed at which the water levels have risen has surprised everyone. People are being advised not to drive unless absolutely necessary. Not ideal news when you're on a 2,000 mile road trip with three bikes on your roof.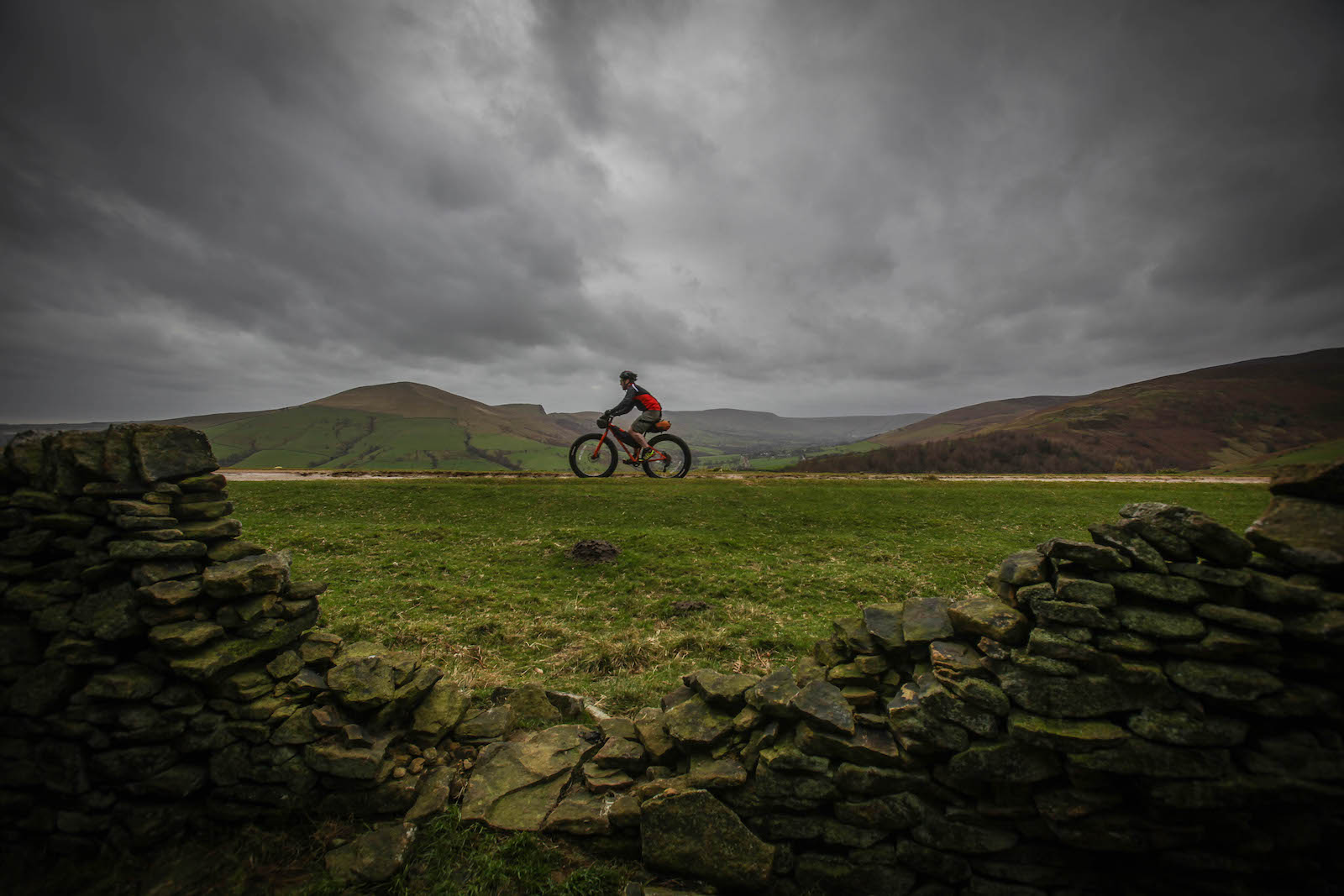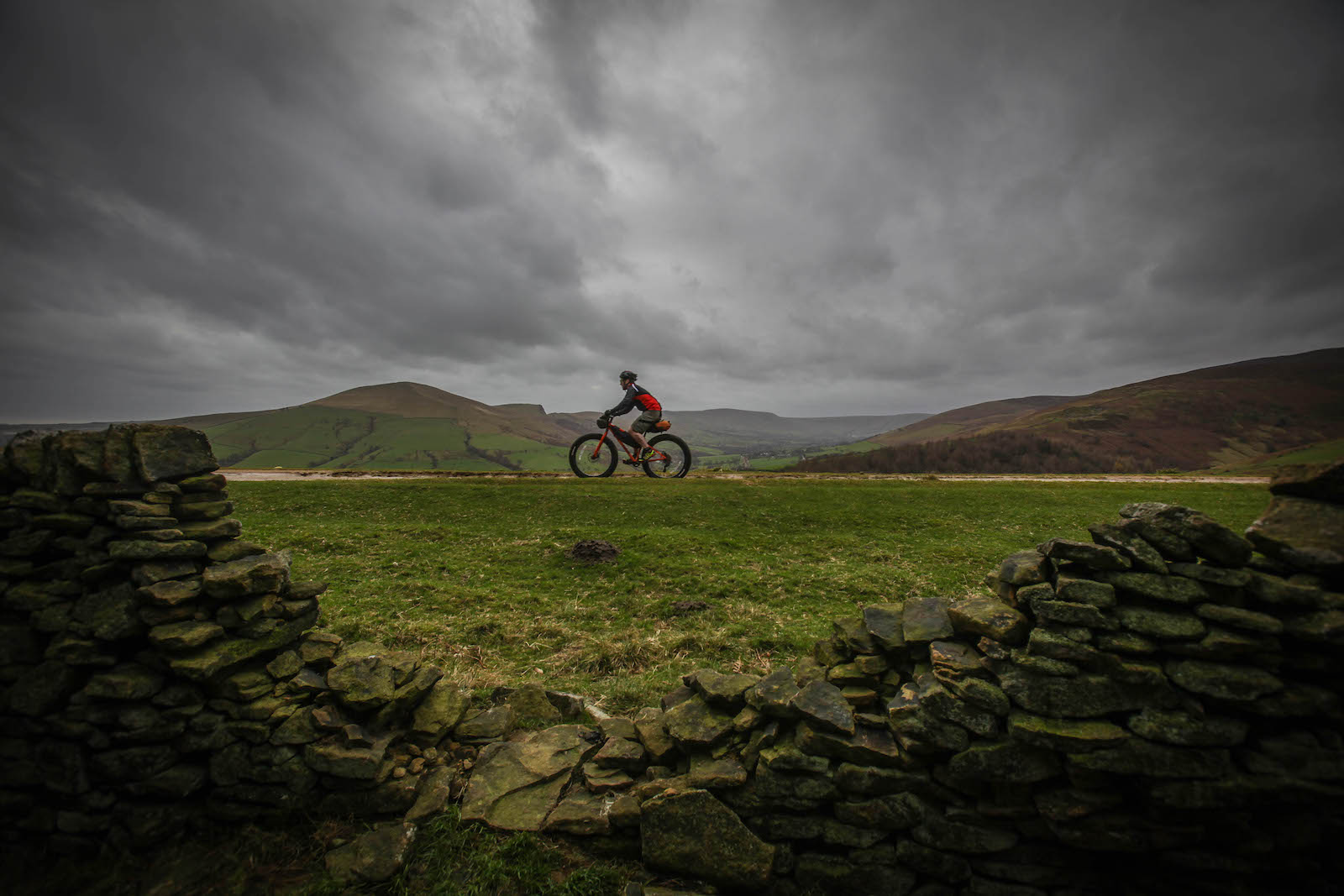 When planning our National Parks adventure, there was always a chance that the weather would turn against us. After all, it's winter. What do you expect? But we hadn't quite expected 80 MP/H winds, floods and a full blown storm. Some would say that to continue might be foolhardy. But the journalist and adventurer in me embraces these sorts of challenges – it makes a better story.
Fast forward four hours.
'I think I've got a puncture' Dave shouts over the wind whilst we ride up hill, before stopping to squeeze his tire. 'Yup, I definitely have a puncture. I hope we've got a spare'.
It turns out changing the tyre of a fat bike is a bit trickier than a normal one, at least when you're doing it for the first time. And when you consider how big a surface area the tyres cover, it's not surprising that we got a puncture. But this didn't detract from the fun we were having.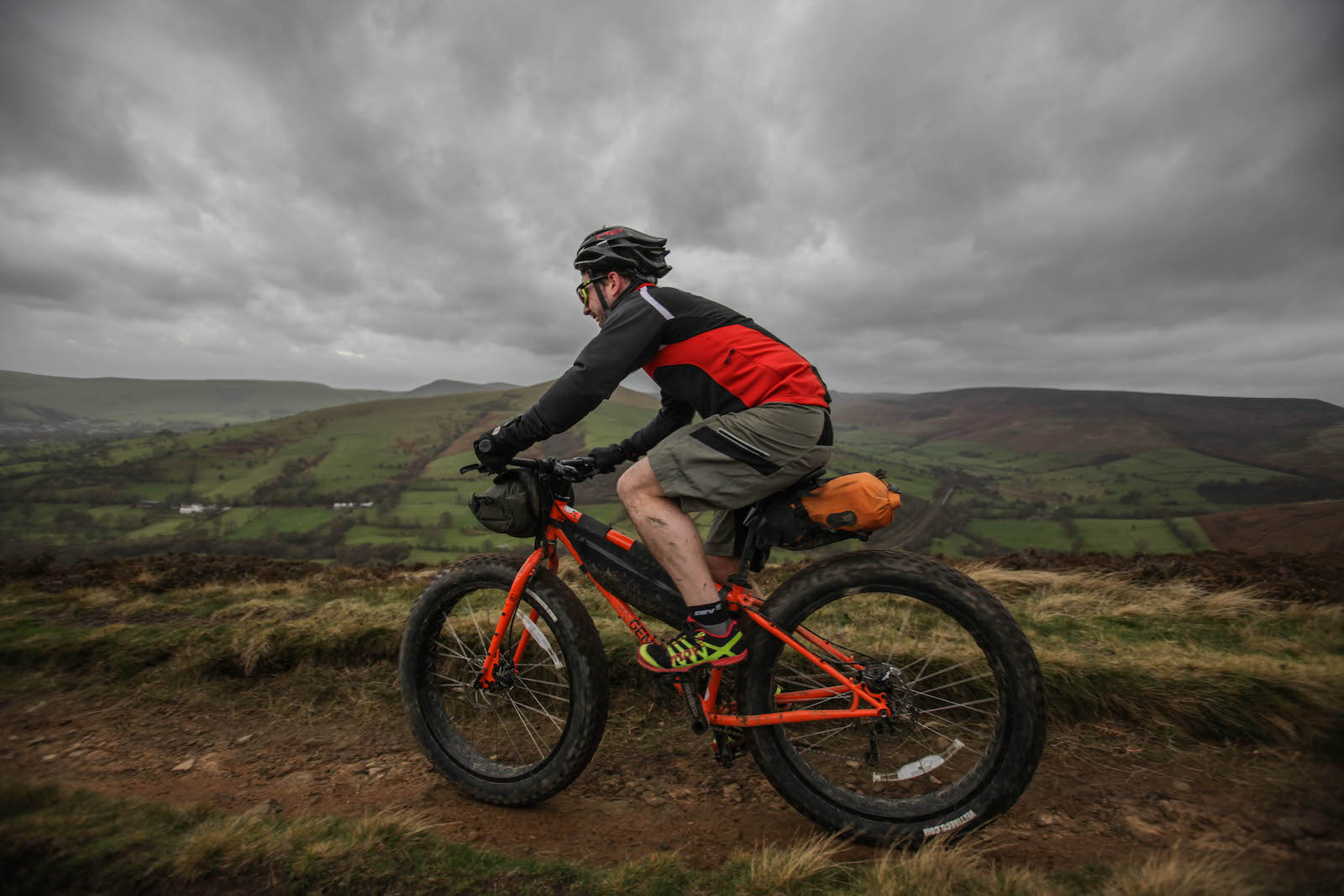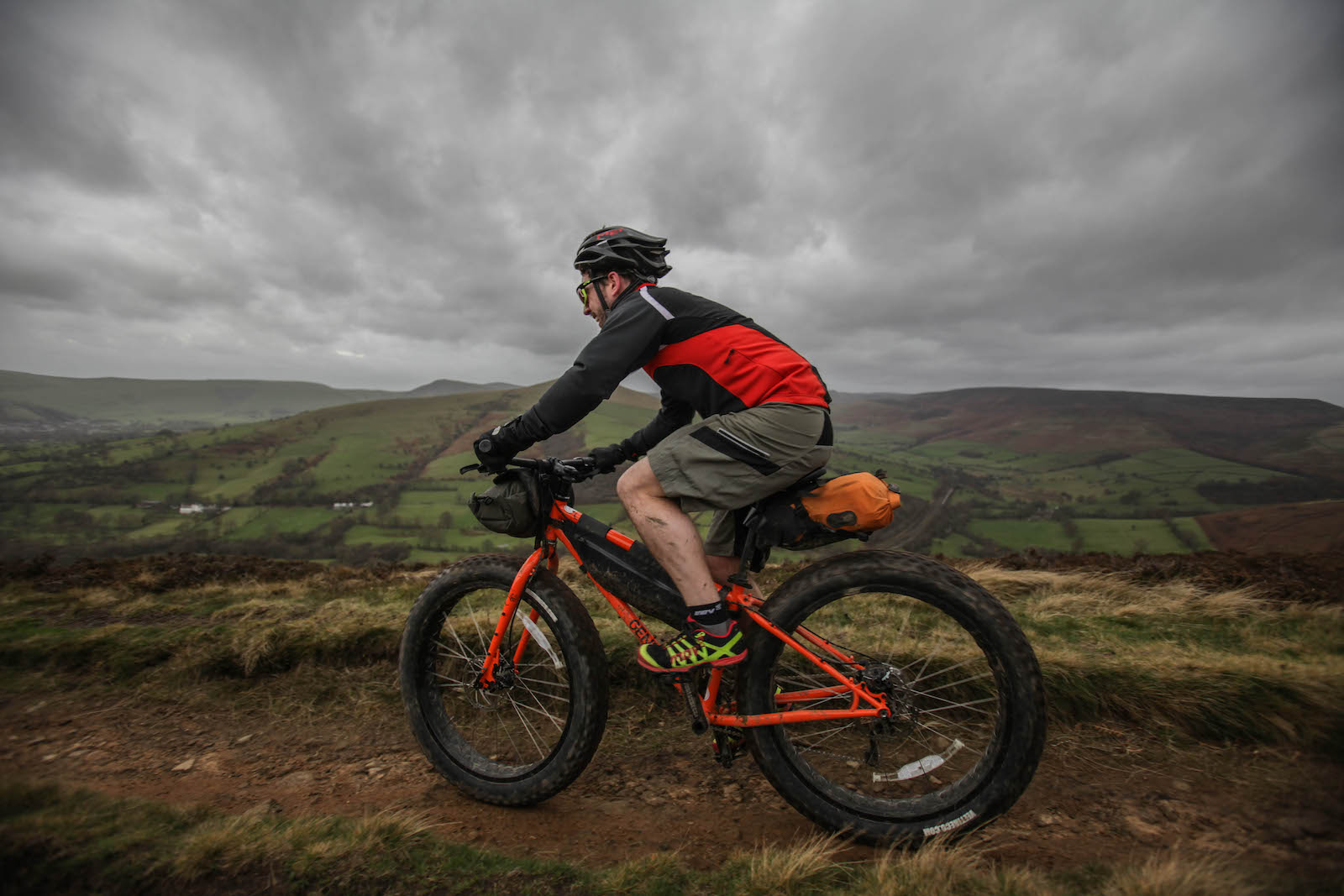 Indeed, it's only Day 2 of our National Parks Great British MINI Adventure and neither of us can help but smile. My companion on this trip, outdoor photographer and filmmaker Dave MacFarlane and I have been blown away by how much we're enjoying this whistle-stop tour through Britain's hotspots.
The Broads and the Peak District couldn't be more different. And each our brilliant in their own way. In September I met Pete McNeil of Adventure Pedlars, a new company based in the Peak District that aims to inspire and facilitate people to have adventures on bicycles, or bike packing as it's more commonly known. His USP is that he has a fleet of Genesis Caribou fat bike.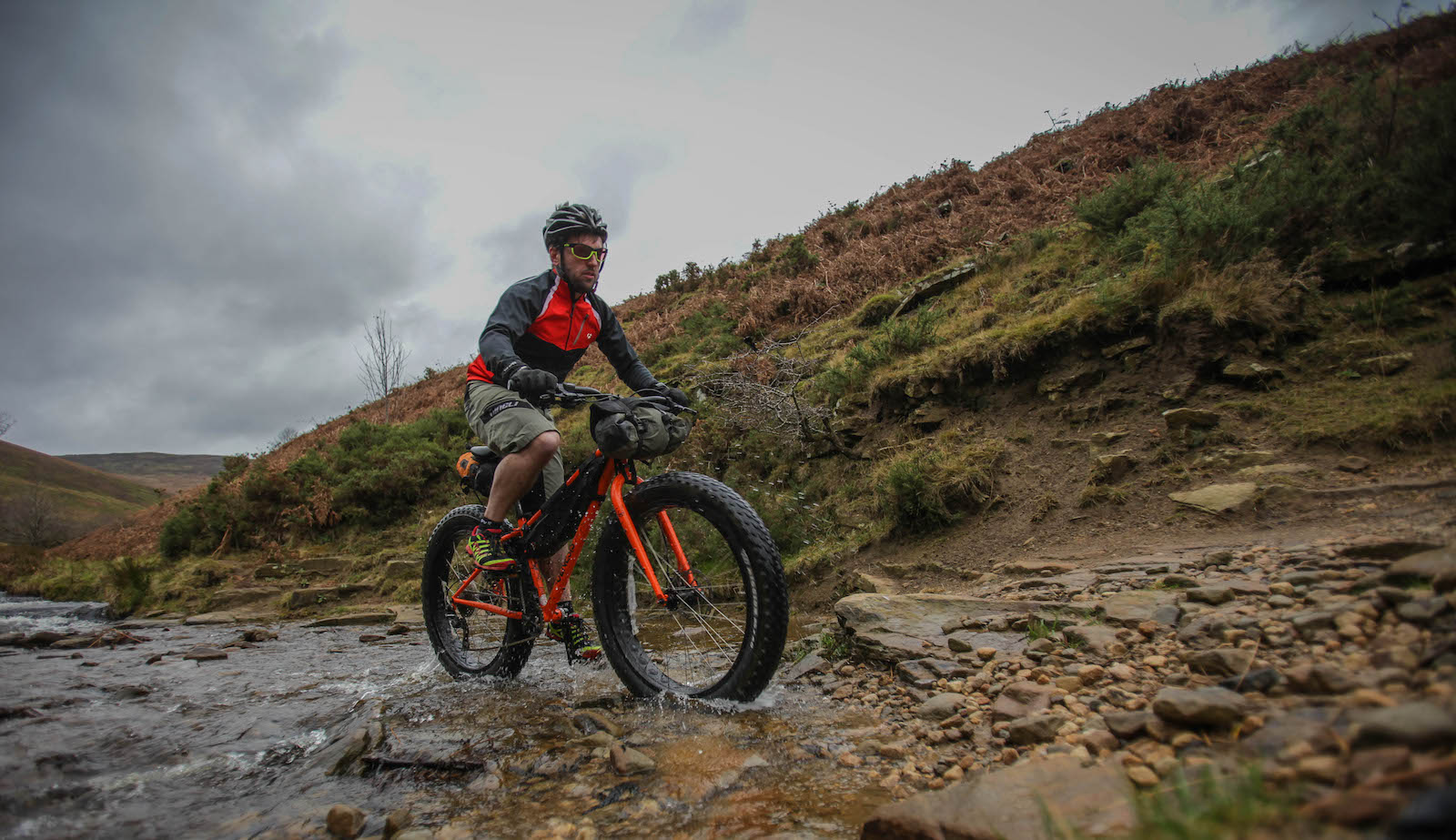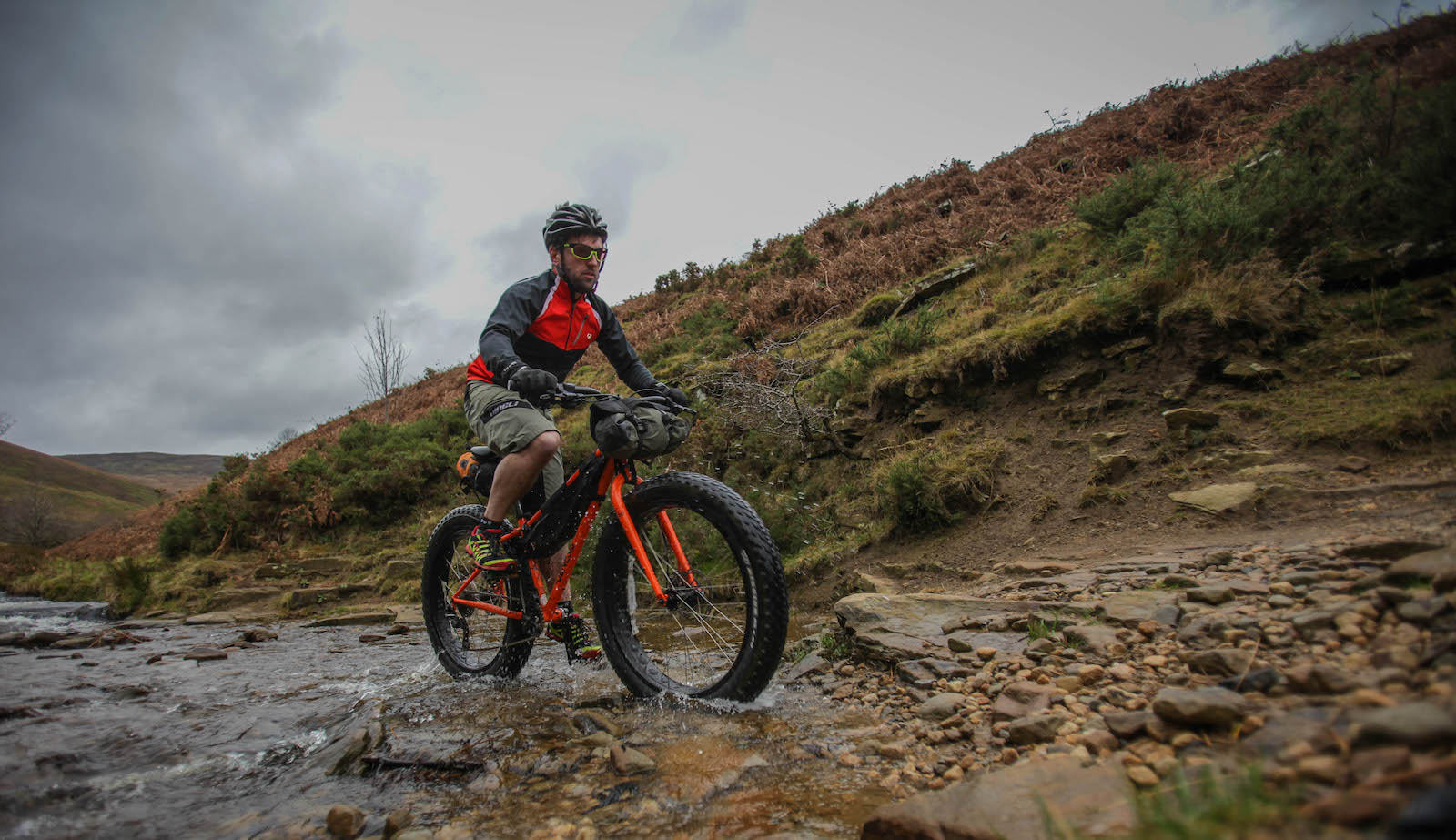 With their massive tires, it's impossible not to grin like a small child when gazing upon these strange steel steeds. They just look cool. Which is one of the reasons why we chose this as our means of transport for exploring the 555 square mile Peak District, Britain's oldest National Park and home to the 1932 Mass Trespass on Kinder Scout, which ultimately lead to its formation in 1951.
Peak 200
The route we chose followed a section of the Peak 200 of the Hope Valley, taking in a few of the honey pot sites such as Mam Tor and Hope Cross. And with over 3500ft of climbing in 15 miles, we got a decent work out, especially with a headwind.
Although this was just a teaser of this bike packing classic, I still wanted to see what it was like to use frame mounted packing bags – a lot more practical and comfortable than a backpack.
I'd raced many times in the Peak District, but I don't think I'd ever really seen it for what it was – a fabulous place to explore. And Dave and I both agreed as we rolled back into Castleton, muddy and grinning from ear to ear, that we'd return and do the full Peak 200. With fat bikes.
Tomorrow we'll be following a mountain bike trail around Sutton Bank in the North York Moors, a National Park referred to as Britain's Empty Quarter. And hopefully we'll get a chance to do a spot of star-gazing tomorrow night when we stay in Northumberland's Wooler.
To follow our Great British MINI Adventure, keep an eye out for #MINIActionMan on Twitter, Facebook and Instagram.